World news story
British Ambassador to Uzbekistan blogs about the Model G8 2013
"The model Summit was a great success. All teams made excellent presentations and pulled their weight in the final negotiation session ..."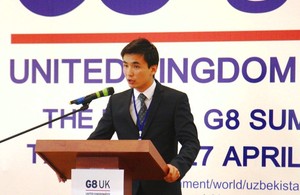 Her Majesty's Ambassador to Uzbekistan, George Edgar, has written a blog entry about the Model G8 in Uzbekistan.
The Model G8 Summit took place at Westminster International University in Tashkent on Saturday 27 April. The first event of its kind in Uzbekistan, the Model G8 involved students from leading universities in Tashkent and was a simulation of the events of the actual G8 Summit, which this year will be chaired by the UK.
Read and comment on the Ambassador's blog about Uzbekistan's first Model G8.
Published 2 May 2013