Press release
British Ambassador to UAE is new UKTI Chief Executive
Dominic Jermey will be the new Chief Executive of UK Trade and Investment (UKTI).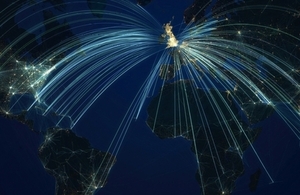 Dominic Jermey will be the new Chief Executive of UK Trade and Investment (UKTI), it was announced today (1 May 2014).
Currently British Ambassador to the UAE, he was previously Managing Director of UKTI's Sectors Group for 3 years, helping 11,000 of the UK's most innovative companies to do business around the world, and was acting Chief Executive for UKTI in 2009.
He began his career in corporate finance with British investment bank J Henry Schroder Wagg, working in both London and Madrid, and joined the Foreign and Commonwealth Office in 1993. He will begin the role in June 2014.
Business Secretary Vince Cable said:
UKTI is playing an important role in building a sustainable economic recovery that has lasting foundations in exports and investment.

The new Chief Executive has a major responsibility to deliver on our commitment to grow the number of British businesses exporting and to promote the UK as a top investment destination around the world.

I would also like to thank Crispin Simon for undertaking the role of acting Chief Executive over the last 5 months and for the achievements of the department during his tenure.
Foreign Secretary William Hague said:
The Foreign Office network now plays a bigger role than ever in bringing overseas investment into the UK and creating opportunities for British businesses to expand into overseas markets.

Dominic Jermey will bring the skills and experience necessary to ensure the work UKTI carries out with our embassies abroad continues to create economic growth and jobs at home.
Incoming CEO Dominic Jermey said:
I am delighted to be the new chief executive of UKTI. Many UK businesses have told me what a massive contribution UKTI has made to their success around the world.

I have also seen how overseas investors have been attracted to the UK because of direct engagement by UKTI. Drawing on the expertise and resources of BIS and the FCO, the organisation is well placed to lead delivery of our trade target of £1 trillion by 2020.

I see many opportunities, and some challenges, ahead. Building on all that my predecessors have achieved, I look forward to working with partners in business and across government to support British business success around the world.
Lord Livingston, Trade Minister, said:
Dominic has played a key role in assisting British firms to achieve billions of pounds of orders in the UAE. With a mix of experience in business and in the Foreign Office, his background will be an excellent asset in taking UKTI to the next stage and helping the UK's export efforts.
In his spare time, Dominic is a board member and trustee of the Catholic Agency for Overseas Development (CAFOD) and describes himself as a "slow triathlete".
Crispin Simon will remain as acting CEO until Dominic Jermey begins in the role.
Notes to editors
UK Trade and Investment (UKTI) is the government department that helps UK-based companies succeed in the global economy. We also help overseas companies bring their high quality investment to the UK's economy – acknowledged as Europe's best place from which to succeed in global business. UKTI offers expertise and contacts through its extensive network of specialists in the UK, and in British embassies and other diplomatic offices around the world. We provide companies with the tools they require to be competitive on the world stage. For more information on UKTI, visit www.gov.uk/ukti.
Dominic Jermey's full CV is as follows:

British Ambassador, Abu Dhabi, 2010 to 2014
UKTI Managing Director, Sectors Group, 2007 to 2010
UKTI Acting Chief Executive, 2009
Head of UKTI Defence and Security Organisation Head, 2008
Director of UKTI and then Deputy Ambassador, Madrid, 2004 to 2007
Head, British Tsunami Team, Thailand, 2005
Head, FCO Consular Crisis Group, 2003
FCO Afghanistan Unit and Charge d´Affaires, Kabul, 2001 to 2002
Head of Peacekeeping, UN Department, FCO, 2000 to 2001
British Representative to the UN Administration in East Timor, 1999 to 2000
Political Secretary in Pakistan and Afghanistan, 1995 to 1999
Developing Countries Desk Officer, EU Dept, FCO, 1994
J Henry Schroder Wagg, London and Madrid, 1990 to 1993

In the 2014 Budget UKTI announced further investment of £2.4 million to extend its Global Entrepreneur Programme to attract more of the world's fast growth businesses to the UK. UK Export Finance announced it will double investment in its Direct Lending Scheme to £3 billion, launch a consultation to boost UK exports, launch its Export Refinancing Facility next month (June 2014) and increase its direct marketing activity.
During the Chancellor of the Exchequer's trip to Brazil, in April's (2014) Export Week, he announced further funding for UKTI:

UK Trade and Investment (UKTI) will invest £4 million a year to triple the number of mid-size business advisors to support the export ambitions of 3000 companies, as part of its new strategy
UKTI will invest a further £2 million a year to increase its presence in Latin America to mirror the successful expansion strategy it has pursued in China.
Published 1 May 2014