World news story
British Ambassador to Tunisia meets with young people
British Ambassador made a field visit to Embassy's Arab Partnership project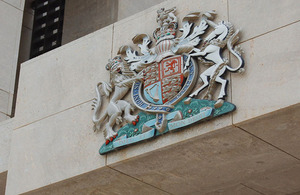 British Ambassador Hamish Cowell visited the youth centre in Sidi Hssine, a neighbourhood of capital Tunis on Friday 22 November. The Ambassador met with young people managing a local web-radio as part of 'AGORA City Debate' project financed by the British Embassy in Tunis.
Working with the National Observatory of Youth (NOY), the British Embassy in Tunis financed a three year project to empower young people in Tunisia and to support grassroots participation in policy making. The total cost of the project is almost 1.5m TND. Since last year, the NOY has launched two community web radios in Cite Ibn Khaldoun and Sidi Hssine.
The local web-radios are encouraging political participation and spreading a culture of local democracy where young people can debate the issues of the day and hold leaders to account.
So far over 300 young people have benefitted from the media and journalism training, gaining skills to manage debates and conduct interviews. They are now in position to use their local radios to lead discussion on the issues of concern to and the aspirations of their communities such as tackling issues of unemployment, education, costs of living, drugs and crimes etc.
Over the past two years, the NOY assisted over 1,000 young people in disadvantaged neighbourhoods to express opinions on issues that matters to them through audio testimonies to be used on the community radios.
British Ambassador said "the UK is pleased to finance the AGORA project that supports young Tunisians to play active roles in tackling their community issues. This project promotes the concept of local democracy where young people can arrange for debates with officials on things that matters to their lives. Today I was able to see the results of the media trainings these young people benefited from, they interviewed me in their studio on what the UK is doing to support the economic growth and democratic transition in Tunisia".
The AGORA city debate is funded through the Arab Partnership Programme, the UK's strategic response to the political changes in the MENA region. It aims to support the democratic transition in Tunisia through political reforms and economic recovery.
For more information
· Check our Arab Partnership Page
· Contact the Arab Partnership Team
· Stay informed by liking our Facebook Page and following us on Twitter.
Published 25 November 2013