World news story
British Ambassador visits Bar-Ilan University to further strengthen scientific cooperation between the UK and Israel
British Ambassador to Israel David Quarrey: "We will continue to increase academic-scientific cooperation"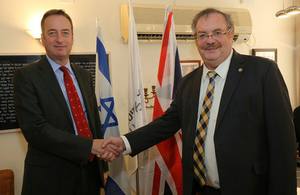 Visiting Bar-Ilan University for the first time since assuming his diplomatic post in Israel, British Ambassador David Quarrey announced his intention to further strengthen scientific cooperation between his country and Israeli universities. Meeting with Bar-Ilan leadership, the Ambassador said he would do so by increasing academic scholarships, research budgets and collaboration in a variety of disciplines. "We will continue to increase academic-scientific cooperation, and this mission is of great significance to me," said Quarrey.
Bar-Ilan University President Rabbi Prof. Daniel Hershkowitz praised Ambassador Quarrey's initiative amidst repeated calls for academic and scientific boycotts against Israel.
Ambassador Quarrey began his tour of Bar-Ilan University in a meeting with President Hershkowitz; Vice President for External Relations Judith Haimoff; Chairman of the School of Business Administration Dr. Eyal Yaniv; Chairman of the Department of Political Science and Director of the International School Prof. Shlomo Shapiro; Deputy Chairman of the Department of Political Science Dr. Jonathan Rynhold; and Prof. Yehuda Lindell, of the Department of Computer Science.
Professor Lindell, who won a grant from the prestigious European Research Council (ERC) for his research in cryptography, spoke about his collaboration in cyber security with the University of Bristol. Dr. Eyal Yaniv spoke about the Business School's International MBA Programme and the research grant he received from the European Union in the framework of the "Horizon" Programme.
Ambassador Quarrey also visited the Institute of Nanotechnology and Advanced Materials (BINA), and met with Research Authority Director Dr. Eli Even; Deputy Dean of the Faculty of Engineering Prof. Zeev Zalevsky; BINA researcher Prof. Yaron Shav-Tal; and BINA Surface Analysis Facility Director Dr. Olga Girshevitz. At the Gonda (Goldschmied) Multidisciplinary Brain Research Center, Ambassador Quarrey met with Centre Director Professor Moshe Bar; Director of the Electromagnetic Brain Imaging Unit Dr. Avi Goldstein; and Dr. Rafi Haddad.
Document information
Published: 15 December 2015