World news story
British Ambassador concludes tour of seven Israeli research universities
UK Ambassador encourages bilateral research and scientific cooperation between the UK and Israel.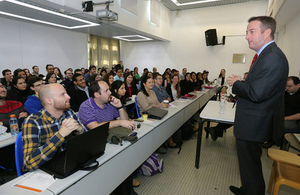 British Ambassador to Israel, David Quarrey, has concluded a tour of all of Israel's seven research universities, aiming to extend scientific cooperation and present bilateral programmes to hundreds of students and academics.
As he started his tenure this summer, Ambassador Quarrey declared the objective of increasing the number of Israelis studying and researching in UK academic institutions. This aim is supported by a number of new and relaunched bilateral programmes by the UK Government's Science & Innovation Network [RP1] [SO2] (SIN), the British Council in Israel, and other partners.
The new and relaunched programmes will benefit hundreds of researchers from both countries. They include a partnership between SIN and the Israeli Ministry of Science, Technology and Space on a new set of Researcher Exchange Programmes on water science, agri-sciences, nanoscience and neuroscience; the launch of the third round of the BIRAX researches - a £10 million initiative that funds joint UK-Israeli cutting-edge research to tackle some of the world's most dreadful diseases; and the next rounds of the prestigious Frost Fellowships to Oxford, and Blavatnik Fellowships to Cambridge.
In yet another sign of increased interest in Israel for higher education opportunities in the UK, this year saw an increase in the number of applicants to The Chevening Scholarships Programme. Chevening is the UK government's scholarship scheme which awards scholarships to outstanding established or emerging leaders across a wide range of fields. Scholars are offered the opportunity to study for a one-year Master's degree at one of the UK's leading universities. There are 44,000 Chevening Alumni worldwide and almost 500 in Israel.
Speaking ahead of last month's UK Israel Science Day events, Ambassador Quarrey said: "The UK is proud that more Israeli students and scientists will now be working together with their British peers. Both countries are science superpowers, with a great talent pool and academic infrastructure. Collaborations between British and Israeli scientists can have real impact in tackling global health challenges such as heart disease, Parkinson's and diabetes, as well as in protecting the environment and enhancing understanding of our societies."
The tour of universities was concluded this week in a visit to Jerusalem's Hebrew University, where Ambassador Quarrey met President Prof. Menachem Ben Sasson, as well as with members of the UK Israel Science Council and grantees of British Council funding schemes. It also included a tour of the laboratory where Prof. Eli Keshet – SIN Fellowship scheme host and a BIRAX grantee – performs cutting-edge cardiovascular research with British partners.
In earlier visits, Ambassador Quarrey met dozens of leading academics who benefitted from working with UK peers, and talked to hundreds of students about the opportunities to continue their studies in British universities. The visits were at Tel Aviv University; The Weizmann Institute of Science; Ben Gurion University of the Negev; The Technion – Israel Institute of Technology; Haifa University; and Bar Ilan University.
Published 23 December 2015