British Ambassador speaks after toxic waste disaster in Hungary
British Ambassador to Hungary Greg Dorey has written to the Mayor of Kolontár to express his condolence to those involved in the red sludge disaster.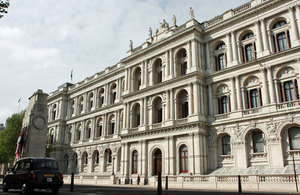 In the letter, the British Ambassador said he wanted to express "deepest and heartfelt condolences".
"Our thoughts and prayers are with the families of all those affected by this disaster. If we can assist them in any practical way please do let me know"
This comes after the dam of an alumina plant reservoir burst and toxic red sludge inundated the nearby settlements on Monday.
An estimated 1 million cubic metres of sludge (a mixture of highly alkaline water and mining waste) escaped from a containment pond of MAL Hungarian Aluminium Production and Trade Company located near the town of Ajka (about 160 kms from Budapest). The flood, which witnesses described as a two-metre high tidal wave, swept away vehicles, destroyed bridges and buildings and drowned livestock. The Hungarian Government estimate a total of 400 homes have been damaged. The leak has affected an area of 40 square kilometres and reached the River Marcal.
Published 7 October 2010