World news story
British Ambassador Ross Denny visits the SV Tenacious
The Jubilee Sailing Trust experience motivates people to overcome their perceived limitations.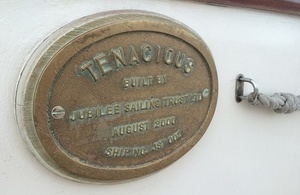 On Thursday 25 February, British Ambassador Ross Denny, staff of the Embassy and a group of special invitees including the Mayor of Puntarenas, representatives of the Ombudswoman's Office, the Legislative Assembly, the National Council for People with Disabilities (CONAPDIS) and other institutions visited the British ship, Tenacious, in Puntarenas.
The group was greeted by the ship's captain and had the opportunity to learn more about the mission of the Jubilee Sailing Trust (JST). Tenacious, which belongs to the JST, is one of the only two tall ships in the world that have been purpose built to enable people of all physical and sensory abilities to take an active role in sailing.
The group of visitors, comprised of people of varying abilities, was able to tour the ship easily, thanks to the wide aisles both above and below deck and lifts between the upper and lower decks for wheel chair users and those with limited mobility. Tenacious was also equipped with signs in Braille and other features to facilitate integration of crew members of different abilities. The experience was enlightening and encouraging for all involved, as it demonstrated the importance of each crew member to every voyage's success.
Tenacious arrived in Costa Rica on 17 February and will depart in early March after a two-week stint in the country, during which time the ship held a special Open Day for all members of the public to come aboard and get acquainted with the ship and its crew.
Published 1 March 2016