World news story
Ben Guiron letter presented to Israeli PM
Israeli Prime Minister Binyamin Netanyahu given a 1947 letter advocating the two-state solution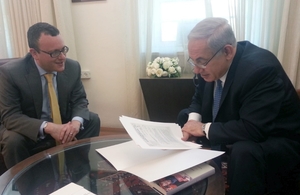 British Ambassador to Israel Matthew Gould held a meeting today (Wednesday 24 April 2013) with Israeli Prime Minister Binyamin Netanyahu. In the meeting, the Ambassador presented PM Netanyahu with a facsimile of a letter sent from David Ben Gurion to Foreign Secretary Ernest Bevin in 1947.
The four-page letter advocates the two-state solution: "The only immediate settlement possible, with finality, is the establishment of two States, one Jewish and the other Arab."
The letter also emphasises the shared values of Britain and Israel: "a community of interests and ideals with the British people and the Anglo- Saxon world. It is not just a matter of gratitude for the Balfour Declaration or for the treatment of Jews for the last hundred years or so. The very existence and survival of the Jewish people depends on whether British ideals and ways of life (liberal tendencies, tolerance, freedom, fair- dealing, respect for human dignity, democracy, etc.) prevail in the world."
Gould said after the meeting:
I was delighted to hand over such an extraordinary document to Prime Minister Netanyahu. The letter raised issues that are as relevant today as the day it was written, in particular the need for a two-state solution, with a viable Palestinian state alongside Israel, which Ben Gurion described as 'the only immediate settlement possible'. Britain will continue to do everything it can to help the Israeli and Palestinian people bring about that just and lasting peace that meets the aspirations of both peoples.
The original letter is kept in the British National Archive.
Published 25 April 2013