World news story
British Ambassador Paul Arkwright departing the Netherlands
British Ambassador Paul Arkwright will be departing the Netherlands at the end of his posting on 14 July 2013.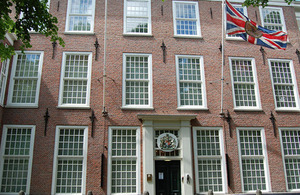 After four years in The Hague Paul Arkwright said:
"My family and I have had a wonderful 4 years in The Netherlands. I have very much valued the opportunity to get to know the country and to work with a wide variety of Dutch and international colleagues. Our two countries share a long and rich history and today the bilateral relationship is flourishing with close ties in all areas of politics, business, the arts and sport – who can forget the London Games of 2012? I have also enjoyed working on international justice issues with the Courts and Tribunals based in The Hague, and on the prohibition of chemical weapons through the OPCW."
Paul Arkwright will be succeeded by Sir Geoffrey Adams, formerly Political Director at the Foreign Office in London, who is due to arrive in The Hague at the end of August.
Published 8 July 2013