World news story
British Ambassador opens the Marrakech Biennale Festival
British Ambassador to Morocco Clive Alderton addressed the opening ceremony of Marrakech's great artistic festival: the Marrakech Biennale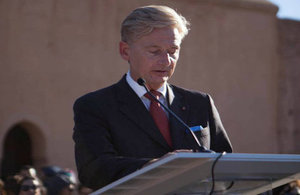 Here is the full text of the Ambassador's speech
"It is a great pleasure to be with you this evening. Thank you for inviting me, and for this opportunity to say a few words. Looking at the list of speakers, I realise that I am now just about the only thing standing between you and a fantastic evening. This seems a good reason to be brief! I just want to say two things.
First, I immediately agreed to be here today because I have always believed that promoting access to culture is a mark of the civilisation of nations. As someone who has been involved in international politics for more than 30 years, I have seen Culture remove political and economic roadblocks. I have seen it heal divisions, acting as a forum for dialogue, understanding and tolerance: values which I know Morocco holds as dearly as my own country, Great Britain. And, for those influenced more by hard economic data than artistic expression, on a very practical level I have seen how culture fills hotels, restaurants and cafes…. While respecting the remarkable heritage of Marrakech – its palaces, museums, souks and a way of life that stretches back more than a thousand years - the Biennale is playing a vital role in developing a new local strength.
Blending the best of the traditional with the best of contemporary art, this Festival reminds us that Marrakech – and Morocco – has a new face to show the world. This 10th Anniversary of the Marrakech Biennale has succeeded in bringing people together, across the boundaries of Faith and community. It promotes creativity and individual expression, encouraging people to dream – and to dream "Big"! The Biennale represents an explosion of contemporary international artistic talent, putting Marrakech ever more clearly on the World Map as an unmissable destination.
The second thing I want to say is that, as British Ambassador, I am delighted that British people have been central to the development and success of the Biennale. Last year we celebrated 800 years of diplomatic ties between Great Britain and Morocco – yes, I did say 800 years. The story that binds our two countries began here in Marrakech. It began with the exchange of ideas and people. And that is how our relationship remains, all these centuries later. I am incredibly proud that my friend and fellow Briton, Vanessa Branson, loves this city and her people so much that she wanted to devote her time and energy to Found this Biennale exactly a decade ago. That spirit of making personal sacrifices to help others is, in many respects, one of our national characteristics. It is one of the things that puts the "Great" in Great Britain.
Ladies and Gentlemen, I have trespassed too long on your patience. Thank you for your attention. In closing, let me once again thank all the organisers who have worked so hard to make this particular Big Dream a reality. And let me wish the Marrakech Biennale every possible success for its next decade."
Published 28 February 2014