World news story
British Ambassador Moazzam Malik visits Central Java
The visit is part of the UK government commitment to strengthen UK-RI relationship.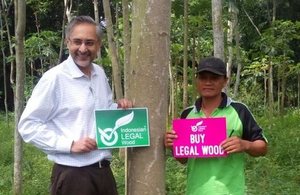 British Ambassador to Indonesia, Moazzam Malik, visited Central Java on 22-24 February 2016 to see how sustainable, environmentally sound practices could revolutionise Indonesia's timber industry.
The Ambassador said:
Not only is it possible to have strong economic growth alongside sustainable climate friendly policies; It is essential for long term well being of Indonesia and the world.

The projects I am seeing this week show that an environmentally sustainable approach to the timber industry makes good business sense. The long term profitability of the industry, and the livelihoods of the hundreds of thousands of people it employs, is directly linked to the long-term health and sustainability of the forests.

The schemes underway here in central Java can be a role model for responsible and profitable management of Indonesia's forests – a globally important environmental asset.
During the trip the Ambassador visited Semarang, Jepara, Boyolali and Klaten. He visited community forests, log suppliers, wood processors and furniture producers. He met owners and employees of the timber industry and local officials.
During the visit he also looked at progress on implementing the UK supported SVLK timber licensing scheme which aims to give Indonesian timber products greatly enhanced, and cheaper access to valuable European markets – another example of good environmental policies making good business sense.
Notes to Editors
The Multi-Stakeholder Forestry Programme (MFP3) is a £8.8m programme supporting a multi-stakeholder approach to verifying the legality of timber in partnership with the Ministry of Environment and Forestry. It runs from April 2014 for three years.

UK support has helped Indonesia combat illegal logging by supporting development of Indonesia's timber legality assurance scheme known as SVLK (Sistem Verifikasi Legalitas Kayu), and the implementation of the Government's Voluntary Partnership Agreement (VPA) with Europea for FLEGT licencing.

The national legality assurance system for timber (SVLK) helps exporters meet market demand for legal timber from Europe, USA and Australia, where new legislation prohibits importation of illegal timber products. Other markets such as China and Japan are looking at ways of recognising SVLK in their timber trade policies.

Since 2014 this national programme has assisted small and medium enterprises to meet timber legality assurance standards (SVLK) and established a credible and fully operational licensing system for legal timber harvesting, linked up to European markets known as FLEGT licensing. Over 90% of forest product exports now comply with SVLK.

FLEGT stands for Forest Law Enforcement Governance and Trade, an integrated European Union Action Plan to help stop global trade in illegal timber. Once fully operational the licensing component will mean only SVLK timber exports from Indonesia will be allowed through European ports.

This year Indonesia stands to be the first country in the world to benefit from the FLEGT licensing scheme, once some regulatory hurdles are overcome.
Published 25 February 2016