World news story
British Ambassador Matthew Lodge wishes Eid Mubarak to all Muslims
On the occasion of Eid Al Fitr, Ambassador Matthew Lodge and his staff at the British Embassy, would like to send their best wishes to all Muslims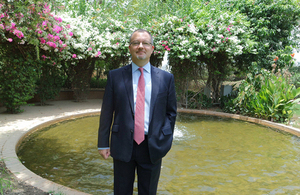 Her Majesty's Ambassador, Matthew Lodge said:
On the occasion of Eid-Al-Fitr, I would like to extend my warmest wishes to all the people of Kuwait. This Muslim holy month has been a time of fasting, reflection, spiritual renewal and worship. Importantly, and as a result of the events of 26 June at the Al Sadeq Mosque, Ramadan in Kuwait this year has also been a time for unity, determination and strength. The people of Kuwait have stood together. They have been joined by Kuwait's friends, including the UK, in resisting terrorism. This year's Eid Al Fitr celebration of the completion of Ramadan allows us to demonstrate the common values that unite us as families and reinforce our international solidarity. Eid Mubarak.
In celebration, The British Embassy will be closed on Sunday, July 19 and on Monday, July 20, 2015. The embassy will resume its business on Tuesday, July 21, 2015. During this time, all British Embassy departments will be closed including visa services at the Visa Application Centre.
The British Embassy Kuwait wish you and your family Eid Mubarak.
Published 17 July 2015