World news story
British Ambassador launches British Festival 2015 in Qatar
This was published under the 2010 to 2015 Conservative and Liberal Democrat coalition government
A month-long celebration of a longstanding partnership between Britain and Qatar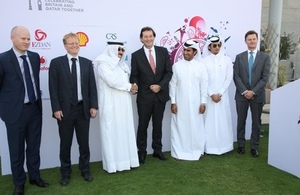 The British Embassy in Doha, in collaboration with the British Council are proud to announce that following its great success in 2014, the British Festival is back. This year's month-long festival, which will run from 3rd March to 5th April, promises to be even bigger and better, encompassing over 40 events and various promotions, which will bring together Qatari, British and international audiences to enjoy the best of what Britain has to offer in arts, education, science, sport and business.
At the launch of the British Festival, Her Majesty's Ambassador to Qatar, His Excellency Nicholas Hopton said:
We are delighted and proud to launch the British Festival 2015 in Qatar. Following the tremendous success of Qatar UK 2013 Year of Culture and last year's British Festival 2014, this year's Festival is a continuing celebration of the strong ties and ongoing exchanges between Qatar and the United Kingdom. The British Festival provides a platform for nurturing existing partnerships and forging new ones - in art, commerce, culture, education and science. We want to highlight British expertise in key sectors and promote the GREAT Britain campaign. We look forward to continuing our work with our sponsors and partners as the Festival launches. I hope many residents of Qatar get involved in the Festival and are inspired to visit, study and invest in the UK in the future.
Martin Hope, Director of British Council Qatar commented:
The British Council is thrilled to continue the strong legacy of Qatar UK 2013 Year of Culture through the British Festival 2015. Our programme of arts, education, science and sporting events is designed to bring British and Qatari individuals and institutions together and to create opportunities for them to exchange knowledge and ideas. We hope this Festival will reach a wide audience, building on existing collaborations and creating new ones. The festival coincides with the United Kingdom government's GREAT campaign, which encourages everybody to be involved with the best of Britain, specifically in Business, Tourism and Education.
This year's official sponsors are Ezdan Holding Group, Qatar Shell, Charles Russell Speechlys, Vodafone Qatar, BAE Systems and Al Balagh Contracting & Trading Company and the Festival is supported by numerous local Qatari and British partners.
The events for this year's festival will embrace the UK and Qatar partnership emphasizing connections and common interests. Events will cover a wide scope, including art, education, science, sport and business.
Perhaps one of the more prominent events to take place will be the concert performed by award-winning five-piece traditional Scottish band, Breabach, who will perform a selection of traditional Scottish folk music, with a unique and contemporary edge, accompanied by Qatari musician Mohamed Al Saigh, on the 5th of April 2015 at the Al Rayyan Theatre in Souq Waqif.
Other events include:
The Study in the UK Exhibition, hosted at the Radisson Blu Hotel from the 16-18 March, will invite students with a keen interest in studying in the UK to explore the wide range of courses available and meet representatives of UK Universities.
The David Batchelor "Flatlands" Exhibition will take place at the Virginia Commonwealth University (VCU) Gallery from 25 March- 21 April. David is a Scottish artist and writer who primarily explores the notion of colour and our own responses to colour within society. His work revels in the brilliant hues of artificial colour and illuminated light, often hinting at the urban landscape.
A UK Alumni event on the 28 March, will provide a networking opportunity for UK alumni, with guest speakers.
The Qatar National Philharmonic Orchestra will be presenting a Proms Night on 3 April. Scottish born conductor, Bob Ross, will direct the Philharmonic through a British style Proms night programme featuring surprise special guest appearances.
A café scientifique at Qatar University with Dr Maggie Aderin-Pocock, one of the UK's leading space scientists, to celebrate the International Year of Light 2015.
A debate between top UK and Qatari university debaters in partnership with Qatar Debate, Debate Mate, and Georgetown University School of Foreign Service in Qatar.
The Hadaf five a side schools football tournament for Qatari and British schools at the International School of London.
As part of the British Festival 2015, a number of hotels will be running promotions from 3 March to 5 April, including The Grand Hyatt, St. Regis Doha, the Hilton, W Hotel, the Marriot, the Sheraton and Oryx Rotana.
Many of the UK retail brands present in Qatar will also be offering customers special events and promotions during the festival, an opportunity not to miss out on.
Don't miss our online competition to be in with the chance of winning two return economy class tickets to London kindly donated by British Airways.
Also look out for our special "Mini" from Al Fardan Automobiles – if you see it, take a photo and upload the picture on to our social media platforms. We want to see pictures of this iconic British brand in iconic locations around Qatar.
To find out the latest information and details of all the events and promotions taking place during the British Festival Qatar 2015, visit:
Facebook: www.facebook.com/britfestqa
Twitter: www.twitter.com/britfestqa
Instagram: www.instagram.com/britfestqa
Notes to Editors:
The following retail partners have to date confirmed their participation in the Festival with others to follow:
BHS, Lush, Costa Coffee, Lulu Hypermarket, Hackett, Molton Brown, Lakeland, Hobbs, The White Company, Hotter, Monsoon, Accessorise, Quiz