World news story
British Ambassador Hands Over Radio Equipment to Jordanian Police
British Ambassador Hands Over Radio Equipment to Jordanian Police to Improve Safety in Azraq and Za'atari Camps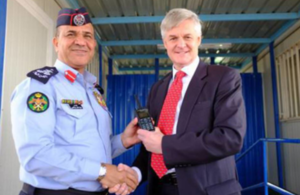 On 7 March British Ambassador to Jordan, Edward Oakden, handed over new radio communication equipment, worth £380,000, to the Syrian Refugee Affairs Directorate (SRAD). The donation of the equipment is the latest step in the UK government's efforts to support Jordan's resilience in the face of the Syria crisis, by helping provide security for Syrian refugees.
Since 2013 the British Embassy Policing Support Team has been helping the SRAD to set-up and expand its community policing initiative in Za'atari and Azraq refugee camps. The team's support has included constructing three community police stations, commissioning and deploying a custom-built mobile police station, and training Community Police Officers and Assistants. In a survey carried out in Za'atari camp in February 2015, 74% of respondents felt that the introduction of Community Police had made the camp a safer place.
The new radio equipment is being supplied by Unitel, a Jordanian telecommunications company, and will bring radio coverage to 100% in Za'atari and Azraq camps, up from 20% and 40% respectively. This will greatly improve the ability of Community Police Officers and Assistants to coordinate their activities and patrol safely. The graduation of a new cohort of British and Dutch funded Community Police Assistants this week will further allow the timely and efficient deployment of police resources. Between December 2015 and the end of February 2016, Community Police Assistants in Za'atari responded to 632 individual incidents in the camps.
Edward Oakden, the British Ambassador said, "The UK and Jordan have a vital partnership. An essential element of that partnership is UK support for Jordan's stability and security in the face of the Syria and other regional crises. Since the start of the Syria crisis the UK has provided more than half a billion dollars towards building Jordanian resilience, partnering with Jordan in important fields like this community policing. I'm delighted that we have been able to support the community police to respond to the needs of Syrian Refugees throughout the camps, through the provision of new radio equipment. Following the London Syria conference in February, where $11 billion dollars in aid was pledged to support those countries most affected by the Syria crisis, UK support to Jordan is set to double, reflecting the priority we attach to supporting both Syrian Refugees and their generous Jordanian host communities at this critical time."
The Head of the SRAD, Brigadier General Jehad Ghaleb Matar, said, "The construction of radio communication towers, and the provision of base stations and handheld receivers will allow the Syrian Refugee Affairs Directorate to deploy Community Police to areas according to the greatest need. This will increase the amount of contact our officers have with the communities in Za'atari and Azraq, resulting in more cases being addressed."
Published 10 March 2016
Last updated 10 March 2016
+ show all updates
Added translation
First published.