World news story
British Ambassador congratulates HH the Amir on the tenth anniversary of his accession
The British Embassy in Kuwait conveyed its sincere congratulations and good wishes to His Highness the Amir on the tenth anniversary of his accession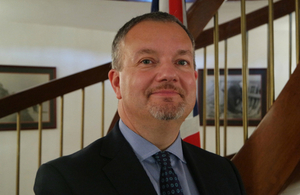 On the occasion of the 10th anniversary of the accession of His Highness Sheikh Sabah Al-Ahmad Al-Jaber Al-Sabah as Amir of the State of Kuwait, the British Embassy in Kuwait conveyed its sincere congratulations and good wishes.
On behalf of Her Majesty's Government and the people of the United Kingdom, Her Majesty's Ambassador Matthew Lodge said:
I would like to congratulate His Highness the Amir, Sheikh Sabah Al Ahmad Al Jaber Al Sabah, on the tenth anniversary of his leadership of Kuwait. The Amir has demonstrated all of the qualities of a great statesman stewarding Kuwait through the challenges of the last decade. The Amir's wisdom and generosity is evident through his many contributions throughout the developing world and beyond, befitting his recognition by the United Nations as a Humanitarian Leader. As both Amir, and earlier as Foreign Minister, His Highness has strengthened the relationship between our two countries. I offer His Highness our sincere congratulations and wish him – and all of Kuwait - prosperity, good fortune, peace and security for many years to come.
Published 29 January 2016