World news story
British Ambassador and faith leaders pledge to help eliminate sexual violence in the DRC
Launch of a coalition to bring faith leaders to take action to prevent sexual violence in the DRC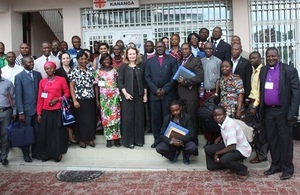 On 27 February 2014, British Ambassador to the DRC, Diane Corner, attended the launch of the We Will Speak Out coalition to take action to prevent sexual violence with faith leaders in the DRC, including the Archbishop of the Congolese Anglican Church, the Most Reverend Henri Isingoma, together with leaders of the Roman Catholic Church, Orthodox Church, Methodist Church, Salvation Army and Pentecostal Church.
The coalition is led by the Anglican Church in DRC and Christian development agency Tearfund with funding from the UK. It aims to bring faith leaders to speak out against rape, tackle rape's root causes, support survivors and work to end impunity
Ambassador Diane Corner said:
Ending the scourge of sexual violence in conflict is a priority for the UK and for me personally. Those of us who have met survivors, who have listened to their devastating stories, know that we must do everything we can to end this terrible crime. We owe it to them, to their families and to their communities.

I welcome the fact that the 'Silent No More' project will mobilise positive male role models to stand against this violence. It is crucial to get men involved in this debate. This is because men and boys can be victims as well as the perpetrators of violence. And because the shame, the fear, and the devastation that this crime wreaks has a destructive impact on all of Congolese society.
The UK is proud to be supporting Congolese communities in their crucial work of promoting gender justice. Together, I know we will do everything we can to ensure that the scourge of sexual violence is no longer a feature of conflict in the 21st Century.
Archbishop Henri Isingoma said:
Women in our country have paid a high price for the instability and cultural attitudes that continue to influence our society. We are called to challenge these harmful attitudes and to share the divine message of equality between men and women, for the well being of all.

It is our mandate to continue to tackle the root causes of sexual violence and to work together to care for the survivors. I am convinced that by taking action and working together with other faith groups, we will accomplish our mission to eradicate sexual violence.
Veena O'Sullivan, Head of Tearfund's Sexual Violence Unit, said:
As people of faith we cannot tolerate the fact that rape is endemic in our society. We are at our most powerful when we work together, to break the silence, to end the pain, and to shatter the stigma faced by survivors of sexual violence.
Dr Sakho, UNAIDS Country Director in the DRC, also added his support, saying:
Faith-based organisations are an indispensable partner in efforts to eradicate sexual violence. Speaking on behalf of all UN agencies, we will make every effort to work with the religious community to tackle sexual violence and HIV and AIDS in DRC.
Earlier this month, Archbishop of Canterbury, Justin Welby, and the UK Minister for Africa, Mark Simmonds MP, met rape survivors and pledged their commitment to help churches and civil society organisations prevent sexual violence, launching this project with the Anglican Church and Tearfund.
On 10-13 June, the Foreign Secretary, William Hague, and Angelina Jolie, Special Envoy for the UN High Commissioner for Refugees, will co-chair the Global Summit to End Sexual Violence in Conflict in London. It will be the largest gathering ever brought together on this subject.
Published 28 February 2014