Britain's values in a networked world
In the third of four speeches made by the Foreign Secretary on the Government's foreign policy, the Foreign Secretary said that it is not in our character as a nation to have a foreign policy without a conscience, and neither is it in our interests.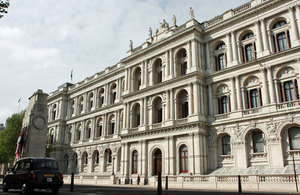 The Foreign Secretary began the speech by addressing concerns that the clear Government focus on advancing British security and prosperity meant that the Government would attach less importance to human rights, to poverty reduction and to the upholding of international law.
Note: there are some audio issues with the footage due to technical issues. Please accept our apologies. A full transcript is available.
He made clear that ''far from giving less importance to these things, we see them as essential… There will be no downgrading of human rights under this Government and no resiling from our commitments to aid and development. Indeed I intend to improve and strengthen our human rights work''.
The Foreign Secretary went on to say that ''We cannot achieve long term security and prosperity unless we uphold our values. Where human rights abuses go unchecked our security suffers. And our international influence will bleed away unless we maintain our international standing and cultural influence.''
The Foreign Secretary announced that the FCO will set up an outside advisory group on human rights, that the FCO's guidance to it's staff on handling allegations of torture and cruel, inhuman or degrading treatment overseas will be published, and that the FCO will maintain and improve its work to document and publicise human rights abuses annually - including through a Command Paper to Parliament.
On the human rights report, the Foreign Secretary said that ''We are determined to continue the Foreign and Commonwealth Office's work to document human rights abuses on an annual basis. But I also want to improve it. Rather than the current expensive glossy publication we will now report annually to parliament by command paper. The scope and quality of the reporting will not change, and indeed we want to make more of that information available to the public.''
Concluding the Foreign Secretary said "We will pursue a foreign policy that remains true to our values while promoting Britain's security and prosperity… In short it will be a foreign policy that is ambitious for others as well as for ourselves. To act in this way is to act in our enlightened national interest.''
Published 15 September 2010