Britain's plan to tackle malaria and save women's lives
DFID's plans to tackle malaria and prevent deaths during pregnancy and childbirth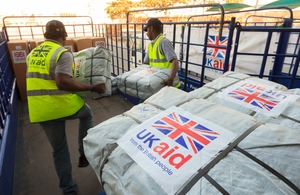 The British Government today unveiled landmark plans to tackle malaria and prevent deaths during pregnancy and childbirth in a move that could save an unprecedented number of lives.
The first of two new Frameworks for Results provides a comprehensive strategy for how British aid money will deliver the Coalition Government's commitments to help halve malaria deaths in at least ten hot spots in Africa and Asia.
The second Framework sets out how the UK will help to save the lives of at least 50,000 women and 250,000 newborns and enable at least 10 million couples to access family planning over the next five years.
The frameworks mark the biggest focus in recent British history on saving the lives of women and babies and the prevention of malaria deaths across the developing world. Both issues will be made a key priority across Britain's overseas aid programmes.
Fragile and conflict countries, often neglected because they are difficult to work in, will receive an increase in support. Up to a third of malaria deaths and more than 50% of maternal deaths occur in these countries.
International Development Secretary Andrew Mitchell said: "Every day over two thousand people die from malaria and almost a thousand women die during pregnancy or childbirth. These deaths are all the more tragic because the vast majority could have been prevented.
"We will be relentless in driving down this terrible loss of life by hugely increasing our efforts, basing our actions on evidence; reaching more people with the right interventions; and by putting girls and women front and centre of our development work.
"Britain has a proud history of helping those in need. We are making our support go further by shifting the development agenda to one of accountability, impact and innovation - starting with malaria and maternal health."
Reacting to the news of the frameworks, Melinda Gates, co-chair of the Bill & Melinda Gates Foundation said: "Investing in simple, inexpensive and proven interventions that will save the lives of women and children in developing countries is one of the best investments the UK can make. We're pleased to partner with DFID and others to scale up these interventions and develop new ones that will multiply the UK's efforts and its overall impact."
"The world knows how to defeat malaria," she added. "Huge progress has been made in recent years. The UK is smart to increase its investment to stop malaria deaths, to scale up this success, as well as to invest in new research which could one day eliminate malaria completely."
Published 31 December 2010