Britain's Armed Forces honoured at The Millies
'The Millies', now in their third year, have become a key fixture of the military calendar, offering the British public the chance to pay tribute…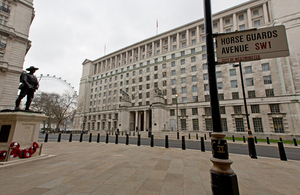 'The Millies', now in their third year, have become a key fixture of the military calendar, offering the British public the chance to pay tribute to the men and women of our Armed Forces and highlight specific brave deeds.
This year over 1,200 members of the public responded to The Sun's request to nominate those who they thought deserved a 'Millie' award.
The ceremony, which took place at London's Imperial War Museum on Wednesday 15 December 2010, was hosted by Phillip Schofield and Amanda Holden and supported by His Royal Highness The Prince of Wales, who was in attendance on the night. The ceremony will be broadcast on ITV1 tonight.
The Prince of Wales said:
There are very few professions where you sign on knowing that, at some stage in your career, you may be asked to risk your life to ensure the success of the mission and that, someday, you may pay the ultimate price for your actions.

Despite these risks, men and women from across this country have stepped forward, and will continue to step forward, to serve in our Armed Forces.

When they do this they know, with some degree of certainty, that they may find themselves working in some of the most dangerous and demanding environments in the world - in countries some may never have heard of and most will never have visited. These men and women are, I believe, very special.
The first award of the evening was presented to Flight Lieutenant Ian Fortune from RAF Odiham who, while flying a Chinook helicopter in Afghanistan, was shot in the head while picking up American casualties.
Not realising the severity of his injury, Flt Lt Fortune flew the casualties back to Camp Bastion to ensure their safety, and in turn put his own life at risk.
Flt Lt Fortune received the Millie for Most Outstanding Airman. On receiving his award he said:
It's fantastic, it really is. It's a realisation that there is great public support for the Armed Forces and that they appreciate the job that we all go and do and I think it's very hard to convey just how that really does affect us, to know that you have the support of your home nation. It makes doing our job that much easier.

When I watched the video [of the mission during which he sustained his injury], it brought a bit of a smile to my face in a way, because each time I see it, there's a little bit of me that goes 'you survived getting shot in the face'. I think 'I'm still here' and there's a little moment when you realise you've just survived that.
TV presenters Holly Willoughby and Fearne Cotton presented Flt Lt Fortune with his award.
Fearne Cotton said:
It was incredible to present the award. He's such an amazing guy and for us to even be here tonight to witness all these incredible awards, it's the tiniest little thing that we can do, just to be here and show our appreciation and to give Ian the award.
The next award was presented by comedian Paddy McGuinness and former X Factor contestant and I'm A Celebrity Get Me Out Of Here winner Stacey Solomon to Warrant Officer Karl Ley, 11 Explosive Ordnance Disposal Regiment, Royal Logistic Corps.
WO Ley has dealt with more improvised explosive devices than any other operator in history, making safe and recovering 139 IEDs across Helmand province.
On winning the Millie for Most Outstanding Soldier, WO Ley said:
It's brilliant and it's humbling as well because I've been given this award and there are eight other teams doing exactly the same. There are more than eight teams doing it now as we speak, and in the future, although hopefully not for too long, there will be other teams doing the same.

It's obviously a great honour to receive it, but I did nothing special so I'm collecting it on behalf of everybody.
On being hailed as a 'record breaker', WO Ley said:
I was steady. We did 139 in six months which sounds a lot, but it was less than one a day. Some days we'd do none and then the next day we'd do 14. They're a bit like buses IEDs. You miss one and then loads come along afterwards!
Sergeant Keith Best, C Flight, 22 Squadron RAF, was next to be honoured when he received the 'True Grit: Home Award' for his part in the search and rescue operation in response to the floods in Cumbria at the end of 2009.
As the winchman on the first rescue aircraft, Sgt Best recovered 27 individuals, and during a sortie lasting 11 hours he displayed outstanding courage and determination.
Sgt Best said:
It's a fantastic feeling and I'm absolutely elated to receive this award. I couldn't be more proud.
TV presenters Ant and Dec gave the Millie to Sgt Best. Ant McPartlin said:
It's great that we are able to present him with his award. We were in Australia this time last year and we always get on the websites and check the news back home and we remembered this lovely story at the time, so it's great for us to come here and present Keith with this award tonight.
Next up, footballers Cesc Fabregas and Rio Ferdinand presented the Most Outstanding Sailor or Marine Award to Warrant Officer Class 2 Buck Ryan of 40 Commando Royal Marines.
WO2 Ryan was described as being a tower of strength in many life-threatening situations in Sangin, Afghanistan, including arriving with his Quick Reaction Team at the scene of a crashed US Black Hawk helicopter which was engulfed by flames.
WO2 Ryan and his team repeatedly entered the burning aircraft to rescue the American soldiers, despite exploding ammunition and the ferocious heat.
He rescued three of the trapped crew alive and recovered the bodies of four who had tragically perished in the fire.
The next award paid homage to the men of World War Two's Bomber Command and their courage during their crucial role in defending the country.
The Judge's Special Award was presented to Bomber Command by Ann Widdecombe and Forces' sweetheart Katherine Jenkins.
Mrs Widdecombe said:
I think it means a huge amount because they did so much, it wasn't just the Dambusters, every time there was an action Bomber Command was backing it up. Imagine D-Day with no air power.

I think people forget that it was a very vital role that they played and it is true that everybody has been so mesmerised by Dresden that all the other work hasn't been properly recognised. It should be and now it is being.
The award for Best Reservist was presented to Squadron Leader Sarah Charters, 4626 Aeromedical Evacuation Squadron, Royal Auxiliary Air Force, for the three months she was in charge of the Emergency Department of Camp Bastion Hospital in Afghanistan at a time when admissions were greater than any previous period.
Rugby player Jonny Wilkinson presented Sdn Ldr Charters with her award in a pre-recorded video. At the event she said:
I'm absolutely amazed that I was nominated and it's absolutely incredible. I met the two guys who were also shortlisted for the Reservist Award and I think the work they did is just fantastic. They were just so brave in the work that they were doing out in the field.
Prime Minister David Cameron and his wife Samantha presented the Heroes of Sangin Award to recognise every soldier, sailor and airman who risked their lives in Sangin against the Taliban.
Various members of different units from all three Services received the award on behalf of all Service personnel.
The Overcoming Adversity Award was presented to Corporal Andy Reid, 3rd Battalion The Yorkshire Regiment, who, during his deployment to Afghanistan in October, set off an IED which resulted in the loss of both of his legs and part of his right arm. His left arm and hand also suffered injury.
On receiving his award, Cpl Reid said:
It is an absolute honour just to be nominated for this award. Everyone's deserving of an award and it is amazing to win and get the public behind you and know that they are thinking about what we do.

My rehabilitation is going really well. I can walk a mile on my legs now, depending on this English weather which can be quite tricky. I just have to keep going and push myself a bit further. I'm going to go back to camp in February and go into the Training Wing and be a senior Warrior instructor and teach people how to drive that.
Cpl Reid received his award from TV presenter Jeremy Clarkson and singer Myleene Klass.
Boxer David Haye presented the Life Saver Award to Corporal Ricky Furgusson MC of 4th Battalion The Rifles.
Cpl Furgusson was struck by an IED but not before he risked death to help rescue injured colleagues. Cpl Furgusson said:
It's still a shock. I did my job and what I was trained to do. There's plenty of blokes in Afghanistan now who would probably do exactly the same thing.
The award to recognise support to the Armed Forces was presented to Mr Denny Wise for his commitment to the children of servicemen and women affected by operations.
Mr Wise is involved in helping children understand various aspects of the Armed Forces to enable them to come to terms with the grief they feel on losing a parent.
International footballer and father of three David Beckham was honoured to present the award which addresses a cause very close to his own heart. Mr Beckham said:
When I went over to Afghanistan to see the guys it was very special and it's a huge chance to recognise what they do for our country day-in and day-out. They deserve this and so much more.

My visit out to Afghanistan made me realise how ridiculously hard it must be to be away from their families.
When I went out there I met guys who were out there for up to six months and leaving their families and there were some incredible emotions that I saw and it really makes you realise how hard it must be.
Mr Beckham brought his eldest son Brooklyn to the ceremony, which he said is part of his education regarding the UK's Armed Forces.
Mr Beckham explained:
He's very proud to be here tonight and experience this. It makes it real for him and it makes him realise just how much these guys are putting their lives on the line. It means a lot for me and our son to be here tonight.
The last award of the evening was presented by the Prince of Wales and the Duchess of Cornwall to 1st Battlion The Mercian Regiment (1 MERCIAN) to recognise them as the Best Unit of 2010.
During their deployment to Afghanistan between April and October 2010, 1 MERCIAN suffered 12 killed in action and the highest number of casualties throughout 4th Mechanized Brigade. All of the soldiers of the battalion showed immense courage and self-sacrifice under the most extreme circumstances.
Presenting the award, the Prince of Wales said:
You only have to look around this room and see the array of medals to realise just how busy they have been and will no doubt continue to be.

So on behalf of a truly grateful nation we can only salute them for doing their duty whatever the circumstances or conditions. We are incredibly lucky to have them.
The Sun Military Awards will be broadcast on ITV1 at 2100hrs on Friday 17 December 2010.
Published 17 December 2010