"Britain will not abandon Sudan"
Minister for Africa Henry Bellingham confirms that the UK is committed to helping all of Sudan's people towards peace and prosperity.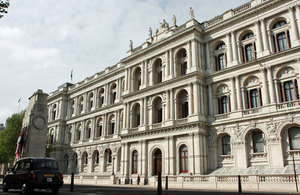 Writing for the Guardian, the Minister for Africa said:
Louise Roland-Gosselin's article on Wednesday stated that this is no time for the UK to wash its hands of Sudan.
I completely agree. Regardless of the outcome of this historic referendum, the UK will continue to value and develop its relations across all of Sudan. We have a longer-term goal of helping all of Sudan's people on the road towards peace and prosperity. It is for this reason that the foreign secretary chaired a UN security council debate on the situation in Sudan on 16 November, engaging with our security council partners to seek to ensure that the referendum was carried out peacefully and credibly.
The UK is providing a significant amount of humanitarian and development assistance to Sudan. We have delivered 112m litres of safe drinking water in southern Sudan, healthcare facilities for 1 million patients and antenatal care for 200,000 pregnant women in Darfur. We have also opened a new joint DFID/FCO office in Juba and are increasing our staff numbers to respond to needs. The referendum won't change this.
We will continue to press for action on the serious ongoing violations of human rights and the lack of access for vital humanitarian work in Darfur. And there is no question of this government prioritising commercial links over the very real and pressing human rights concerns we continue to have about Sudan. We have a long-standing position of support for the work of the international criminal court (ICC) and have repeatedly urged the government of Sudan to co-operate with the ICC.
Our important support for demarcation will also continue. A team of experts, led by the UK special representative for Sudan, Michael Ryder, has been offered to support the Sudanese parties, in co-ordination with President Thabo Mbeki's efforts to resolve outstanding comprehensive peace agreement issues.
And yesterday I hosted a roundtable with leading international NGOs to discuss the situation in Sudan and the next steps ahead. I made clear the UK's long-term commitment to improving the lives of the Sudanese people.
We are all concerned about the tensions in Abyei and reports of fighting in recent days. The foreign secretary, development secretary, me and our ambassador in Khartoum have been in close personal contact with Sudanese political leaders as well as the UN. I reiterate their calls for the people of Abyei and their leaders to exercise restraint.
The opening of the polling stations for the southern Sudan referendum on 9 January was a truly remarkable and historic achievement. Whatever the outcome, it won't signal the end of the UK's continued support for Sudan.
Published 14 January 2011