Press release
Britain to provide tents and medical aid to South Sudan
Britain will provide emergency healthcare, shelter and other vital supplies to thousands who have fled their homes in South Sudan, International Development Secretary Justine Greening has announced.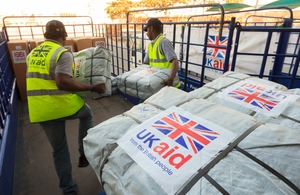 The £12.5 million commitment will provide immediate supplies and support to key organisations operating in South Sudan, including the International Committee of the Red Cross and UN agencies.
The UK has also activated the Rapid Response Facility to provide swift additional support through a number of pre-approved organisations.
Announcing the support, International Development Secretary Justine Greening said:
Many families have fled their homes and are now in urgent need of further help while they seek refuge from the violence. Britain's emergency funding will provide a lifeline to thousands and will ensure aid agencies have the support they need. We are monitoring closely the situation on the ground and stand ready to provide further assistance as required. It is crucial that all humanitarian workers are now guaranteed safe and secure access to carry out their vital work.
The UK's £12.5 million package of support will provide:
£3 million to provide emergency medical treatment to thousands of people and clean water to nearly 15,000 people. Medical supplies and skilled surgical staff will be delivered by the International Committee of the Red Cross;

£6 million for the Rapid Response Facility. This will allow international partners on the ground to provide clean water, health care and temporary shelter to thousands of people;

Tents for up to 7,500 people who have fled their homes. As well as protection against the elements, up to 1,500 family-sized tents will also provide women, girls and young children with some privacy. The £1 million consignment will be distributed by the International Organisation of Migration; and

£2.5 million to airlift aid workers and humanitarian supplies to those in need across the country, including through the UN's Humanitarian Air Service.
As the crisis in South Sudan continues, latest UN figures reveal that 180,000 people have been displaced from their homes and 75,000 are sheltering in UN compounds. Many are in need to food, healthcare, shelter, clean water, sanitation and protection.
The support is in addition to the £60 million provided by the UK's Department for International Development to South Sudan earlier in 2013.
This support is already allowing aid agencies, including ICRC, World Food Programme and UN Common Humanitarian Fund, to respond to the current crisis and provide food, medical supplies and specialist surgical staff.
Notes to editors
The Rapid Response Facility (RRF) was established in March 2012. The RRF is a network of pre-approved specialist aid organisations and private businesses who can rapidly deliver emergency medical, water and sanitation assistance to affected people. It enables the UK Government to commit to rapid humanitarian funding to these pre-qualified partners. Responding swiftly in humanitarian disasters ensures that more lives are saved and suffering reduced.

Before the current crisis, South Sudan was already one of the poorest countries in the world with over half of the 8.3 million population living below the poverty line.

DFID's new humanitarian funding is in addition to our ongoing long term development work in South Sudan. This programme has been targeted at primary education, treatment and prevention from malaria, tackling hunger, supporting security, and providing health care and nutrition.
Published 31 December 2013