Press release
Britain to join tech giants to drive down Internet prices in developing countries
The Alliance for Affordable Internet will help progress for the 90% of the global population who are unconnected to the internet.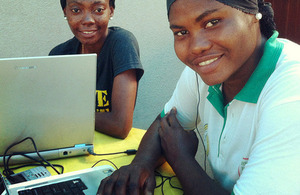 Britain will join with the US Government, Google, Facebook and developing country technology firms to bring down internet costs in developing countries, Justine Greening announced today.
The Alliance for Affordable Internet, founded by Sir Tim Berners-Lee's World Wide Web Foundation, will work with governments across Africa and Asia to take on unnecessary regulation and anti-competitive policies.
In many countries taxes on IT, powerful state telecoms monopolies and other regressive policies are helping to push up prices. In less developed countries a basic fixed line broadband connection costs around a third of monthly income, compared to around 2% in the developed world. The UN has set a target of entry-level broadband services priced at less than 5% of average monthly income.
Approximately two-thirds of the world's people remain unconnected to the Internet, entrenching a digital divide that severely hampers economic progress. Internet access is becoming increasingly important in the world's poorest countries as a tool to set up businesses and drive improvements in healthcare and education.
Justine Greening said:
Over the last twenty years the Web has changed our own society so much that everyday life seems unimaginable without it.

Internet access has been a driver of economic growth. It puts power in the hands of people and opens up societies. Yet for millions of people across the world high prices still put it out of reach.

This new alliance will challenge the anti-competitive regulations and policies that push up prices across the developing world, helping to bring universal Internet access to the world's poorest people.
Sir Tim Berners-Lee, inventor of the Web and founder of the World Wide Web Foundation, said:
The reason for the Alliance is simple – the majority of the world's people are still not online, usually because they can't afford to be. In Mozambique, for example, a recent study showed that using just 1GB of data can cost well over two months wages for the average citizen.

The result of high prices is a widening digital divide that slows progress in vital areas such as health, education and science. Yet with the advent of affordable smartphones, new undersea cables and innovations in wireless spectrum usage, there is simply no good reason for the digital divide to continue.

The real bottleneck now is anti-competitive policies that keep prices unaffordable. The Alliance is about removing that barrier and helping as many as possible get online at reasonable cost.
Jennifer Haroon, Access Principal at Google, said:
Nearly two out of every three people don't have access to the Internet - this is a massive challenge that can't easily be solved by a single solution or player.

The world needs technical innovation and vision to bring more people online, but we also need a strong policy foundation that allows new ideas to flourish. By working alongside Alliance partners, we can help lay the groundwork needed to drive innovation and bring the power of the Internet to more people.
Dr Bitange Ndemo, honorary chairperson of A4AI, said:
In Kenya, we saw the number of internet users more than double in a single year after we liberalised markets. Now we need to spark the same revolution on broadband costs and access, not only in my country but around the world. To achieve this, we will use our combined voices, leadership and expertise to press for fair, competitive and socially responsible markets.
Notes to editors
For more information visit www.a4ai.org
The Alliance for Affordable Internet was launched today in Abuja, Nigeria. Its honorary chairperson is Dr Bitange Ndemo, the former Permanent Secretary of Kenya's Ministry of Information and Communications, who is widely regarded as the father of broadband in Kenya.
The Alliance members are listed in the table below:
Full List of Alliance Members
| Global Sponsors | Private Sector | Public Sector and Academia | Civil Society and Foundations |
| --- | --- | --- | --- |
| Google Inc | Alcatel-Lucent | Commonwealth Telecommunications Organisation | Association for Progressive Communications (APC) |
| Omidyar Networks | Cisco | Center for Technology and Society of the Getulio Vargas Foundation (CTS/FGV) | Cherie Blair Foundation for Women |
| UK Department for International Development | Digicel | Dialogo Regional sobre Sociedad de la Informacion (DIRSI) | Consumers International |
| USAID | Ericsson | Government of Sweden | Ford Foundation |
|   | Facebook | US State Department | Global Partners |
|   | Intel Corporation |   | Grameen Foundation |
|   | Main One |   | Internet Society |
|   | Microsoft Corp |   | Inveneo |
|   | Yahoo! |   | IREX/Beyond Access |
|   |   |   | New America Foundation's Open Technology Institute (OTI) |
|   |   |   | Research ICT Africa |
|   |   |   | Software & Information Industries Association |
|   |   |   | The Centre for Internet & Society |
|   |   |   | Women in Global Science and Technology |
Affordability Facts and Figures
(All from ITU report ICT Facts and Figures 2013 unless otherwise cited)
In the developing world, 31% of the population is online, compared with 77% in the developed world.
90% of the 1.1 billion households not connected to the Internet are in the developing world.
In Africa, 16% of people are using the Internet – only half the penetration rate of Asia and the Pacific.
Between 2009 and 2013, Internet penetration in households has grown fastest in Africa, with annual growth of 27%, followed by 15% annual growth in Asia and the Pacific, the Arab States and the CIS.
The gender gap is more pronounced in the developing world, where 16% fewer women than men use the Internet, compared with only 2% fewer women than men in the developed world. A recent report from Intel suggests that women are 43% less likely to have access to the internet in sub-Saharan Africa, 33% in South Asia, and 34% in Middle East and North Africa.
In Africa, less than 10% of fixed (wired) broadband subscriptions offer speeds of at least 2 Mbit/s. This is also the case of several countries in Asia and the Pacific, the Americas and some Arab States.
Over the past five years, fixed-broadband prices as a share of GNI per capita dropped by 82%. By 2012, fixed- broadband prices represented 1.7% of monthly GNI p.c. in developed countries. In developing countries, fixed- broadband services remain expensive, accounting for 30.1% of average monthly incomes.
General media queries
Follow the DFID Media office on Twitter - @DFID_Press
Published 7 October 2013