Britain set to increase aid to Somalia
Britain is set to triple aid efforts in Somalia in a bid to tackle the deep-rooted humanitarian and political crisis that has driven thousands into war, extremism and piracy.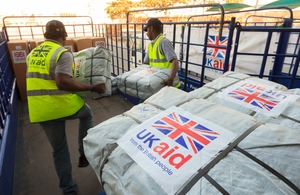 Following a visit to Somaliland this week - the first ever by a British Cabinet Minister - International Development Secretary Andrew Mitchell announced that more must be done to improve conditions for the people on the ground if security is to improve and the country stopped from being a source of threat to the UK.
The forthcoming review of all British aid programmes is expected to conclude that the UK will increase efforts to help those devastated by decades of fighting in Somalia, providing water, emergency nutrition, basic health care and the means to keep livestock alive for up to 500,000 people a year.
Alongside this, action will be taken to offer men and women a longer-term alternative to violence and extremism, with up to 45,000 people helped into jobs and more done to establish stronger communities, more effective local government and rule of law.
This will result in 340,000 more people getting jobs and better services because of British aid over the next four years, in addition to over 500,000 people a year who will benefit from emergency humanitarian assistance.
New measures will target more support at women and girls in a country where one in ten die during childbearing years.
Somalia has been devastated by almost two decades of conflict, with 1.4 million people having fled from their homes and 3.5 million living in extreme poverty.
During his visit, Mitchell also announced that Britain will provide emergency aid in response to ongoing drought in Somalia after seeing first hand the effects of the current crisis.
Speaking on his return from Hargeisa, the capital of Somaliland, Mr Mitchell said:
"British aid to Somalia is helping to save lives - this week I met a three-year-old girl who had been on the verge of starvation. Now she is on the way to recovery, thanks to the kind of emergency nutrition that Britain will provide for some 40,000 starving women and children.
"But this is not just aid from Britain; it is aid for Britain too. Our aid to Somalia is helping to make Britain safer, because conflict doesn't just claim innocent lives in Somalia, it also leads to international problems like piracy, migration and terrorism. None of these will be solved without tackling their root causes: ongoing instability and extreme poverty."
The United Nations estimates that the drought combined with ongoing conflict has left 2.4 million people - a third of the total population of Somalia - in need of emergency assistance.
Britain's emergency aid package will:
Provide emergency nutrition for more than 40,000 starving women and children;
Give safe drinking water to 350,000 people; 
Give access to basic, life-saving healthcare for 268,000 people; and 
Help 68,000 people to keep their animals alive - a vital lifeline for families in times of drought.
This comes in addition to emergency aid announced in 2010, which is providing water, health care and emergency nutrition to some 700,000 people across Somalia.
In Somaliland Mitchell saw how British aid is helping to improve security, health care, education, build communities, and boost opportunities for Somalis to make an honest, peaceful living.
Over half of Britain's development aid in Somalia will be directed at Somaliland, a more stable self-governing region. It is hoped further progress made possible by the UK taxpayer could help improve stability across the whole country and region.
Published 3 February 2011