News story
Britain set to become first western nation to issue a sovereign Islamic bond
UK to become the first country outside the Islamic world to issue sovereign Sukuk.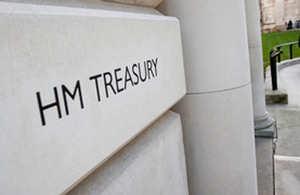 The Chancellor has today declared the UK's intention to become the first country outside the Islamic world to issue sovereign Sukuk, the Islamic equivalent of a bond.
This will deliver on the Prime Minister's announcement at the World Islamic Economic Forum in London last October.
It is part of the government's long term economic plan to establish the UK as the undisputed centre of the global financial system, and builds on the action the government has already taken to develop the UK as a hub not only of Islamic finance, but Chinese finance too.
In the coming weeks and subject to market conditions, the government intends to issue £200 million sterling Sukuk, the largest ever issuance of sterling Sukuk.
The UK sovereign Sukuk will have a maturity of 5 years and use the Al-Ijara structure, the most common structure for sovereign Sukuk. The Sukuk will be underpinned by rental income from three central government office properties, which will remain in government ownership during the lifetime of the Sukuk.
The government has also today announced the appointment of a syndicate of four additional Joint Lead Managers (to join HSBC) to deliver the planned sale of UK sovereign Sukuk. The Joint Lead Managers being appointed today, in addition to HSBC, are:
Barwa Bank;
CIMB;
National Bank of Abu Dhabi; and
Standard Chartered.
Further details on the transaction will be announced in due course by the syndicate banks and the Debt Management Office, acting on behalf of HM Treasury.
At the first World Islamic Economic Forum held outside the Islamic world in October 2013, the Prime Minister announced that HM Treasury was working to issue UK sovereign Sukuk worth around £200 million.
In January 2014, following an open and competitive tendering process, HSBC and Linklaters were appointed by HM Treasury as structuring and legal advisers respectively, to work with it to issue UK sovereign Sukuk in 2014-15. As set out in the tender process, the structuring bank was also appointed to act as a Joint Lead Manager at the later syndication stage.
An open and competitive process to appoint a syndicate of banks as Joint Lead Managers (alongside HSBC) was launched on 23 May 2014. The government is today announcing the appointment of the syndicate banks, as well as its intention to issue the UK sovereign Sukuk in the coming weeks, subject to market conditions.
Published 12 June 2014