World news story
Britain promotes North West England to Russian travellers
Britain has launched a campaign to boost the number of Russian tourists visiting music and sports "capitals" of the North, Liverpool and Manchester.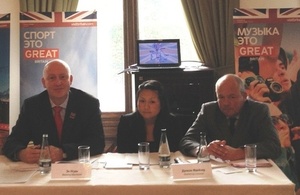 Innovative, entrepreneurial Manchester and vibrant, cosmopolitan Liverpool have become among of the main tourist attractions in the United Kingdom. Indeed, since the launch of easyJet's direct Moscow-Manchester flight in March 2013, there has already been a 182% increase in interest in Moscow-Manchester flights.
VisitBritain's Marketing Director Joss Croft, Marketing Manchester's Marketing Manager Anh Nguyen, and Head of Visitor Economy on behalf of Liverpool City Region Duncan Frazer met at the British Ambassador residence to explain the attractions which north west England can offer to Russian tourists.
Joss Croft, Marketing Director at VisitBritain said: "One of VisitBritain's key development areas is to encourage our overseas visitors to explore more of Britain. Our research has identified Britain's other fun, vibrant cities as a factor which might persuade 78% of visitors to go outside London. To capitalise on this opportunity, it's crucial that we inspire potential visitors by telling them about how easy it is to travel both to and within Britain and what a great holiday experience they will have there."
The campaign, they believe, will be an effective tool to promote some previously undiscovered attractions of Manchester, Liverpool and North West of England in general. The area is more than just The Beatles and other top musicians or top football clubs.
Chris Brown, Director of Marketing Liverpool said: "It is a great opportunity for us to promote the ease of access to Liverpool from Manchester and show our strong destination offer - from stylish restaurants and hotels, stunning architecture, world class museums and galleries, to an exciting and growing retail offer."
Published 3 October 2013