World news story
Britain Open for Business: Her Majesty's Ambassador speaks at the American Chamber of Commerce in Tashkent
Her Majesty's Ambassador, George Edgar, made a speech at the Amcham on the subject of Uzbek-British trade and investment relations.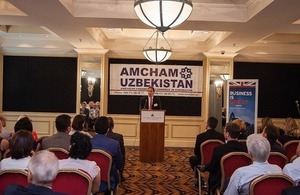 Her Majesty's Ambassador, George Edgar, was the honorary speaker of the month at Amcham's first meeting since the summer break and delivered a speech on the subject of Uzbek-British trade and investment relations.More than 60 AmCham members and guests, including foreign and local entrepreneurs, diplomats, representatives of international organizations, business consultants and academics attended the British Ambassador's presentation.
Ambassador Edgar started with an introduction to the business climate and investment opportunities in the UK. The country's open and internationally focused economy is one of the largest and most sophisticated in the world. The UK offers an attractive location for businesses with easy access to customers, product innovators, suppliers and business partners.
'We are one of the top ten manufacturers in the world and have the largest industries in Europe for Life Sciences, ICT and the Creative Industries. The UK is home to three of the top five globally ranked universities, including Cambridge, ranked number one and offers a strong skills base. According to the World Bank, the UK is the best major location for 'ease of doing business' in Europe in terms of setting up and running a business, labour regulations and obtaining finance. It is no surprise, therefore, that the UK attracts more international investment projects than anywhere else in Europe'.
Ambassador Edgar then explained in detail about trade and investment relations between the UK and Uzbekistan. The trade turnover between two countries was over USD 206 million in 2012. These figures could be much better however, and as the Ambassador noted, there is huge unrealized potential in bilateral trade relations.
The UK is already a significant source of foreign investment in Uzbekistan, Ambassador Edgar stressed. There are dozens of companies with British capital operating in diverse sectors of the Uzbek economy including Tethys (oil production), Rio Tinto (mining), Deloitte and SNR Denton (consulting and legal services), GlaxoSmithKleine (pharmaceuticals), Carlsberg (brewing firm), British American Tobacco (tobacco industry), ITE (exhibitions), WorleyParsons (engineering), Wakefield Inspection Services (inspection services), Nationwide Technologies (fertilizer production), the British School of Tashkent and others. Many of them have been working in the local market for years, are recognized leaders in their field and have excellent business reputations among Uzbek customers.
The UK priority, Ambassador Edgar said, is to develop bilateral trade relations and work with the Government of Uzbekistan to create advantageous business conditions which will attract more British companies to invest in the country. The Embassy's Commercial Section stands ready to assist British companies already operating in Uzbekistan and can help advise new UK businesses on the Uzbek market. Co-chaired by H. E. Elyor Ganiev, Minister of Foreign Economic Relations, Investment and Trade from the Uzbek side and Mr Peter Lilley MP from the British side, the Uzbek-British Trade & Industry Council (UBTIC), established in 1994, is also a key partner for promoting bilateral trade and economic relations. UBTIC holds annual alternate sessions in London and Tashkent. More than 200 British companies and organizations are UBTIC members. There is no membership fee and any company registered in the UK may join UBTIC.
In conclusion, Ambassador Edgar commented: 'Uzbekistan has great economic potential and a number of competitive advantages that are attractive to foreign investors. With its key geostrategic position, skilled workforce, the largest domestic market in Central Asia, wealth of raw materials and low operating costs, the country could have a remarkable future. I am convinced there are emerging opportunities for British companies here, in diverse sectors of the Uzbek economy such as oil and gas, mining, energy, engineering, construction, education, pharmaceuticals, agriculture, finance, banking and insurance. I hope that the 20th session of UBTIC, scheduled to be held in London in November will take business links between Britain and Uzbekistan to a new level and lead to the conclusion of mutually beneficial contracts'.
Published 5 October 2013