World news story
Britain is open for business
British Foreign Secretary reiterates the UK's commitment to increase bilateral trade to £3 billion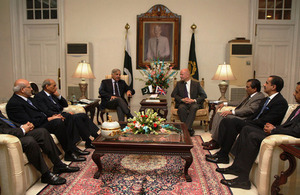 The British Foreign Secretary, William Hague, today reiterated the UK's confidence in Pakistan's economic future, pledging to work towards the new target of increasing UK-Pakistan bilateral trade to £3 billion by 2015.
In his first visit to Lahore, the Foreign Secretary met businessmen and entrepreneurs at a business event hosted by the Chief Minister for Punjab, Shahbaz Sharif. He heard about British companies' successes of investing in Pakistan and about future opportunities to expand in the country.
The Foreign Secretary stressed the importance that the UK Government places on building ever-stronger trading links with Pakistan, capitalising on the unique people-to-people connections between the two countries.
While speaking to Chief Minister Sharif and the group of businessmen, the British Foreign Secretary highlighted the strength of the trade ties between the UK and Pakistan and said:
The ties that join the UK and Pakistan are as strong as ever. Our two countries are joined by bonds that are long lasting and deep. Trade is a central part of this relationship. We have recently pledged to increase bilateral trade to £3 billion by 2015.
Over 100 British companies are operating successfully in Pakistan and the second annual trade conference will be hosted by London this autumn to encourage more companies to follow their success.
Further Information
For latest updates and photos on the British Foreign Secretary's visit, please visit the following pages:
*UK in Pakistan Flickr gallery
Contact:
Press Attaché, British High Commission, Islamabad; tel. 051 201 2884
Published 18 July 2013