World news story
Britain is open for business
British Ambassador Alan Charlton writes article for Inforel - Brazilian foreign issues news agency.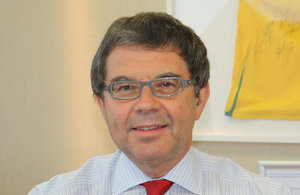 Economies with better business regulation grow faster. As the global economy recovers, it has never been more important for companies to have a properly regulated business environment to stimulate growth. That is why improving the business environment is at the heart of the UK government's efforts.
The UK still has a long way to go to recover (the independent Office of Budget Responsibility forecasts growth of 0.6% in 2013). But Government measures to reduce the deficit and rebuild the economy have secured stability and positioned the UK as a relative safe haven, with interest rates near record lows. Despite the difficult conditions, the economy is recovering and rebalancing.
The UK is the best major location for 'ease of doing business' in Europe (7th globally). Yesterday, Chancellor of the Exchequer George Osborne delivered the UK Budget for 2013 in which he announced further measures to stimulate growth through helping businesses to succeed. We now have one of the most competitive tax systems in the world: corporation tax has fallen from 28% to 24% and will be reduced to 20% in 2015, the joint lowest in the G20. The UK attracts more international investment projects (17%) than anywhere else in Europe, is ranked 17th in the Corruption Perception Index (between Japan and the US) and has risen to eighth in the 2012 World Economic Forum Global Competitiveness Report. Many thousands international companies have chosen the UK for their business investments. It is home to four of Europe's top ten biggest companies.
Brazilian companies – large and small – are putting down roots in the UK. One is Marfrig, now one of the biggest employers in Northern Ireland.
Nonetheless, Britain's immigration policy has been accused in the British media of stifling British business, of placing a "Keep out" sign. There need be no concern in Brazil about this. British government welcomes migration which helps the UK economy. We are "Open for business". In 2011 88% of the visa requests from skilled Brazilian workers were processed within 5 days (99% in 15 days) and the overwhelming majority of these were approved. It continues to be possible for tourists and business visitors to go to UK without visas for up to 6 months (check on the wording).
Fostering the right conditions to sustain future business is also vital That is why, like Brazil, the British government is also focusing on capital investment in science, infrastructure and education. We have the largest programme of investment in the railways since the Victorian era costing £9.4 billion. The UK and Brazil have wonderful examples of cooperation in all these areas, with our partnership in President Dilma's Science without Borders initiative a glowing example: the UK has committed to receiving 10,000 additional Brazilian students in the next 3 years alone.
Going back to regulation, the British embassy has been working for three years with Casa Civil to pass on the experience of the UK as Brazil develops its own model. On 19 March I had the honour to speak at a conference on this issue at the Presidency involving delegations from around Latin America. Better regulation is good for Brazil and for UK businesses working with Brazil. Alan Charlton, British Ambassador in Brazil
Published 23 March 2013