Britain and Ukraine – Partners for Reform
Minister for Europe David Lidington has spoken about the importance of a stable and prosperous Ukraine, firmly embedded in the international community.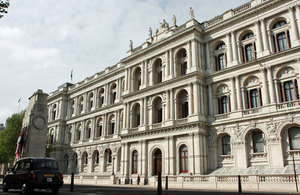 Speaking at an event hosted by the British Ukrainian Society on 13 July, the Minister argued that all of Europe has a strong interest in a stable and prosperous Ukraine. The alternative, a Ukraine wracked by instability, would be bad news for the entire region and would present a serious risk to Britain's security and prosperity.
He cautioned that Ukraine 'cannot be complacent' about the challenges of corruption and the erosion of democracy and civil liberties and spoke about the UK's 'grave concerns' at recent developments. The UK can support Ukraine's efforts to reform, but Ukraine must ensure the independence of its judiciary and the objective application of the rule of law.
David Lidington said:
"We are, and will remain, enthusiastic advocates of Ukraine's closer integration with the rest of Europe, and we look forward very much to the day when we welcome Ukraine into the EU as a full member.
"President Yanukovych and his government have often reaffirmed their commitment to the rule of law and to their country's European future. I welcome that.
"At the same time, Ukraine will be storing up problems for itself if the anti-democratic trends which we have seen recently continue."
"Ukraine matters. It matters as a growing market for British goods and services; as an investment destination; as an energy transit route and as an energy supplier. It matters because the evolution of its democracy could have important consequences for the region. And it matters because its relationship with the European Union is a test case for the EU's entire strategy towards its Neighbourhood."
Published 14 July 2011