Britain and Cambodia in the Asian Century
During his visit to Cambodia, Stephen Lillie, Director Asia-Pacific, delivered a speech on 'UK and Asia-Pacific.'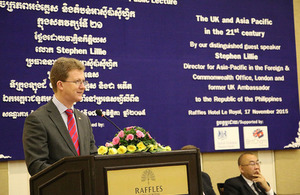 Speech by Stephen Lillie, Director Asia-Pacific, Foreign and Commonwealth Office, London to joint seminar organised by the Cambodian Institute for Cooperation and Peace, the British Chamber of Commerce and the British Embassy Phnom Penh.
Your Royal Highness, Excellencies, distinguished guests ladies and gentlemen. It is a great honour to have been invited to speak here today by the Cambodian Institute for Cooperation and Peace. I know from your reputation and the many prestigious speakers that have preceded me here, that this is a unique opportunity to share my thoughts with probably the best-informed cross-section of decision makers and thought leaders in Phnom Penh.
I should also like to thank BritCham for co-hosting this event. This is an excellent example of public private partnership and a testament to your energy as one of Cambodia's youngest but also most dynamic business associations. I pay tribute to the excellent work the Chamber is doing to support British business, to work with Cambodia's young entrepreneurs and to advise the government here on developments in the local business environment.
Much has been talked among Asia Watchers about the American pivot to Asia, or as it has come to be described, the Rebalance. Today, I would like to talk about Britain's own rebalance to Asia, and in particular the East Asia and Pacific region for which I am responsible in the UK Foreign Office.
I have never been shy to describe this as the Asian Century. We in Britain recognise the eastward shift in global economic and political influence, and its importance to our future. Over the past five years the British government has refocused the UK's diplomatic effort towards the world's Emerging Powers, and significantly upgraded our engagement with the Asia Pacific region. A prosperous and stable Asia Pacific matters to British interests. It matters in relation to the development of the rules-based international system which maintains global security; it matters as an engine of the growth which drives global prosperity; and it matters in relation to resolving issues like climate change, without which that growth will be unsustainable.
Following David Cameron's election as Prime Minister in 2010, the Government made a strategic decision to expand Britain's relations East and South, and to expand our engagement with Asia, boosting our diplomatic staff numbers in the region, increasing the rhythm of high-level visits and appointing trade envoys, including the Prime Minister's Trade and Cultural envoy to Cambodia, Lord Puttnam.
The re-opening in 2012 of our Embassy in Vientiane in the Lao PDR – which I will visit later this week – was not just symbolic. It makes the UK one of only three European countries to have diplomatic missions in all ten ASEAN countries. It reflects the importance which Britain attaches to ASEAN as the centre of the multilateral economic and security architecture in Asia Pacific, what you describe as "ASEAN Centrality".
And our focus on Asia has continued following PM Cameron's re-election in May this year. It was not by chance that the Prime Minister's first international visit outside Europe after the election was to South-East Asia in July, including for talks with the Secretary-General of ASEAN in Jakarta. And within the past month, we have hosted major visits by the leaders of Asia's two giants – a State Visit by Chinese President Xi Jinping and a Guest of Government visit by Indian PM Narendra Modi. Meanwhile, Foreign Secretary Philip Hammond has in the course of 2015 visited every Asia-Pacific member country of the G20.
I would describe this as a rebalance rather than a pivot. Pivot suggests we weren't in Asia before. But as you know, the UK is no stranger to Asia-Pacific. We've been trading with this continent for four centuries. The historic political and people-to-people links are immense. In August I had the privilege to attend the 50th anniversary of Singapore independence. What Singapore has achieved since 1965 is remarkable and a testament to the energy, determination and vision of its population and leaders. It also tells a powerful story about the legacy of strong and transparent institutions of law and governance, which are part of the British legacy, as they are also in Hong Kong.
Our shared history will also be evident when leaders from Brunei, Malaysia and Singapore, as well as Australia and New Zealand, will participate in the Commonwealth Heads of Government Meeting (known as CHOGM) in Malta, at the end of this month.
The past is a strong base, but we are now of course looking to the future, building relationships across the whole region. We are re-investing in established friendships, for example with Japan and South Korea, looking to move those relationships into new areas including defence and security co-operation, and working together on development assistance in Africa. And we are investing in younger partnerships, including in Cambodia, Laos and Vietnam, because these countries will only grow in influence and importance in the coming years. It is genuinely an All-of-Asia policy.
The story of Asia in the 21st Century will be, first and foremost, a story of rapid economic growth and rising prosperity. This means that business will remain a powerful driver of our interests in the region – as it is for our European partners. With the UK economy growing strongly too, and with our reputation as a global leader in financial and business services, and in world class products and brands, the conditions for trade and investment partnership between Britain and Asia have never been better.
As historical pioneers of free trade - and still today, as one of its strongest advocates globally – Britain is committed to playing a leading international role in improving the conditions for business in Asia Pacific - through open trading arrangements, a level playing field for foreign business, and protection of intellectual property rights. Within the EU, Britain is championing Free Trade Agreements with this region. The FTA with South Korea is already delivering huge benefits. Agreements with Singapore and Vietnam have also been concluded. Negotiations with Japan are well advanced, though not yet fast enough. Discussions are getting under way with Australia and New Zealand, and with Indonesia, Malaysia and the Philippines.
Meanwhile, exciting developments are unfolding right here in South East Asia, following the recent agreement on the Trans-Pacific Partnership and the ongoing discussions about the Regional Comprehensive Economic Partnership, or RCEP. We celebrate the advent of the ASEAN Economic Community, which will drive integration in this rapidly developing market of 600m consumers. The AEC is potentially the world's fourth largest single market, so the opportunities to do business with the world's largest single market, the EU, are immense. We should be thinking about the possibility of an EU-ASEAN FTA in due course.
However, Britain's relationship with Asia extends well beyond commerce. The UK, like our European partners, also has a strong stake in the peace and stability of the region. A prosperous Asia Pacific cannot be achieved without physical security, within nations and between them.
Although we are not a major military power in the region, the UK makes an important contribution. We are part of the Five Power Defence Arrangements along with Australia, Malaysia, New Zealand and Singapore. We have a military Garrison in Brunei. The launch of a new 2+2 dialogue with Japan in January of this year is part of a comprehensive approach to deepening defence co-operation as Japan starts to shoulder greater responsibilities in support of international peace and security.
But our commitment to security in the region is not simply a question of physical military engagement. We have supported through sharing experiences of conflict resolution in Northern Ireland the Mindanao peace process in the Philippines and the National Ceasefire Agreement in Burma.
And we stand firmly behind diplomatic efforts to maintain stability and respect for international law and norms. We are clear that our own prosperity depends on this: trade worth £3 trillion passes through the South China Sea each year. Tensions in the South and East China Seas worry the UK and Europe.
This does not mean we take a position on the underlying issues of sovereignty in the South and East China Seas. But we do take a view on how those disputes or disagreements are resolved. And we are very clear about the rights of all states to undertake freedom of navigation and over-flight in the region. We encourage all countries in the region to build mutual trust, be transparent about their military development, work for regional stability, and settle disputes in accordance with international law. We are following closely the proceedings of the international tribunal in The Hague which will rule on issues related to the South China Sea disputes.
Whatever the outcome of those deliberations, it is important that all countries respect the Court's verdict. Respect for international law and the rules-based international system is at the heart of Britain's approach to Asia-Pacific. It is fundamental to Britain's values. Moreover, this goes beyond the conduct of relations between states. It has implications for what happens within countries. Strong institutions, transparency and accountability of government, and the rule of law are fundamental to prosperity and to successful economic and social development.
This is why I am clear that ASEAN must be central to Britain's engagement with Asia. Together, the ASEAN member states have the potential – if you choose - to make your region a centre of democracy, universal human rights, rule of law, and open trading economies in Asia-Pacific.
In that light, we are particularly encouraged by recent developments in Burma. The UK Government has played an important role in encouraging the Burmese transition. The recent elections were a triumph not only for Daw Aung San Suu Kyi and the NLD, but for democracy as a whole. Seeing millions of ordinary Burmese line up to vote, most for the first time in their lives, was truly inspiring. And we should pay tribute to the Burmese government for overseeing these polls and the broadly successful transition to date. We call on all sides, including the military, to come together to negotiate a peaceful and harmonious transfer of power to a new government in March. The international community, including ASEAN, will need to support the new administration to meet the many challenges which will confront it: completing the ethnic peace process; tackling the dire humanitarian situation in Rakhine; spreading the benefits of the country's rapid economic growth to all.
However, the tide is not all one-way. Thailand is a reminder that democracy, once achieved, cannot be taken for granted. We continue to urge the implementation of a timetable for the restoration of democratically-elected civilian government in Thailand and respect for individual rights and freedoms.
And with deep respect to my audience here, I should note our concerns about certain recent developments here in Cambodia. We were alarmed to learn of the violent attacks on opposition politicians on 26 October and dismayed by the subsequent vote to dismiss the Vice-President of the National Assembly and the issuing of an arrest warrant for the opposition CNRP leader, Sam Rainsy. These events have sent an unwelcome message about commitment to democratic principles and tolerance of dissenting or contrary views. The UK urges the Cambodian governing and opposition parties to avoid politicising the judicial process, to rebuild a culture of dialogue and to consolidate the progress made since the Paris Peace accords.
Your Royal Highness, Ladies and Gentlemen, last month, Britain hosted an historic visit by President Xi Jinping of China. The visit marked an important step forward in relations between our two countries. It brought huge economic benefits, with co-operation launched or expanded across areas such as civil nuclear energy, national infrastructure and cooperation between stock markets. We deepened our dialogue on how we can work together to tackle the defining challenges of the 21st Century, from climate change to anti-microbial resistance, and we are making progress on difficult issues including cyber, where we reached a new agreement on preventing cyber-enabled commercial espionage.
It is inevitable that the relationship between the world's fifth and second largest economies should be broad and deep, and among the most important Asian relationships we have. That is why we have agreed to give it the new status of a global, comprehensive and strategic partnership. But let me reiterate the point that I made earlier. Our approach to this region goes well beyond only China or India. It is an All-of-Asia policy. And the principles of our engagement with Asia-Pacific which I have outlined to you are as applicable here in Cambodia as anywhere in the wider region. So let me now turn in more detail to UK-Cambodia relations.
We may not have the same depth of historical ties here as we do in a number of other countries, though Britain and Cambodia are of course bound together as constitutional monarchies and democracies. But as we look to the future, we will not be held back by the past. We are determined to forge a close partnership with Cambodia in the Asian century.
Cambodia has a key strategic location at the heart of new regional transport networks between Thailand and Vietnam, and through Laos to China. That is a tremendous opportunity, as is the youthful, and increasingly digital-savvy, population. Indeed, I was astonished to hear that our Embassy's Facebook page is about to break the 200,000 barrier of followers – which our Ambassador assures me is bigger than any other British Embassy in the world and a testament to Cambodia's impressive internet penetration and use of mobile and smartphone technology. Indeed, Cambodia can be proud of its free and unfettered internet and English-language press.
Our vision is to position the UK as a key and committed European partner for Cambodia by supporting democratic and sustainable development, expanding the UK business footprint, projecting a creative and innovative UK, and giving top rate support to our large, and growing, number of UK nationals resident and visiting here.
The UK is proud to have supported Cambodia's development since the early 1990s. UK Aid projects contributed to advances in healthcare and a range of other social priorities, and we continue to support development as a major contributor to EU and multilateral funds and programmes.
We are working with Cambodia to address pressing global challenges, in particular that of climate change. Cambodia may not be a major emitter of greenhouse gases in the wider scheme of things, but it is at risk of suffering some of the worst, and earliest, effects of climate change. We were pleased to support Cambodia as it prepared its national position and offer for the forthcoming COP 21 meeting in Paris. I look forward to hearing more about this today when I meet HE the Minister of the Environment.
We have also supported Cambodia's efforts to address the most troubling legacies of its past. We have maintained our significant funding, £3.6 million over three years, for demining work, previously run through MAG and now through the Halo Trust. And we support the vital role of the ECCC, to which the UK has contributed nearly US$12 million since 2006, in bringing the surviving Khmer Rouge leaders to account. This is about far more than bringing to justice a small number of elderly men and women. It is about establishing a definitive record of the atrocities that took place, giving a voice to civil parties to allow them to express what the trauma meant to them and their families and bolstering internationally the fight against impunity. It is vital, therefore, that the ECCC be allowed to follow due process and complete its work independent from any external influence or political considerations of the day.
Today, British business plays an important role in Cambodia's development. I am delighted to see UK household names, such as Jaguar Landrover, Prudential, GSK and Costa Coffee, prominent in this market. A vibrant and growing FDI is a win-win for everyone concerned: ethical business practices make Cambodia an ever more attractive location for further investment; Cambodian employees benefit from international standards of training and business practices and the Cambodian consumer is offered an ever higher range of choice. Our UK Trade and Investment presence here is now about to enter its third year and we are proud to be working side by side with BritCham and supporting their efforts.
We also benefit from the regular visits by Trade and Cultural envoy Lord Puttnam, whom I mentioned earlier. His connections with Cambodia are well-known, having directed the landmark film, the Killing Fields. In his current role, however, his passion has been to work with the British Embassy to promote the benefits of so-called STEM education to Cambodia: Science, Technology, Engineering and Mathematics.
Many students in Cambodia think these subjects are too difficult or won't lead to well paid jobs. But STEM subjects are critical for the country's future success. Cambodia needs more engineers, more electricians, more statisticians, more doctors, more architects, more research scientists. STEM-related careers are some of the fastest growing and best paid of the 21st century, and they often have the greatest potential for job growth. As a world-leader in these disciplines, Britain hopes to attract more Cambodian students to UK institutions, either in person or through remote learning or even overseas campuses, which some British institutions are considering establishing here.
In future, these UK-trained STEM graduates will add to the growing body of UK trained alumni in Cambodia. This network now includes over 60 Cambodians who, since 1983, have been recipients of the British Government's prestigious Chevening Scholarships for postgraduate study in the UK. And this number will increase rapidly in the next few years as the number of places for Cambodians more than quadrupled in 2015. Chevening alumni work in a diverse range of key positions in government, civil society, public service and the private sector. This autumn they have, with the Embassy's support, begun to run career development learning sets for other high potential young Cambodians by sharing their experiences in the UK and their subsequent roles and offering mentoring.
Your Royal Highness, Excellencies, Ladies and Gentlemen, I hope you will share my assessment that the relationship between our two countries is increasingly broad and wide-ranging. It has increasingly robust foundations of political dialogue, business connections and people-to-people links. And even as we may disagree on some issues, the friendship continues to grow.
In the years ahead, Britain will maintain its eastward focus, its Rebalance to Asia. As we do so, we will strengthen our engagement with ASEAN, economically, politically and culturally, with ASEAN as an organisation and with each of its ten member states bilaterally, including with Cambodia. And I am confident that through stronger partnerships, we will move towards more sustainable growth, more opportunity for all our peoples, and for a safer and more prosperous world.
Thank you.
Published 17 November 2015