BRIT School celebrates twenty years of success
Ed Vaizey joins Sir George Martin in congratulating iconic creative institution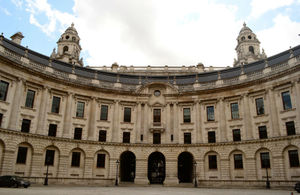 Culture Minister Ed Vaizey joined renowned Beatles' producer, Sir George Martin CBE yesterday at an event to celebrate 20 years of outstanding success at one of Britain's most revered schools.
The BRIT School, based in South London, is responsible for nurturing music sensation Adele and a host of household names including Jessie J, Katy B and Leona Lewis.
"The BRIT School has an incredible legacy with millions of people across the world enjoying the talent the school has helped to nurture," said Mr Vaizey. "The UK's creative industries continue to enjoy major success on the international stage and the BRIT School has certainly played its part in that.
"The School's staff and supporters can be proud of what they have achieved. I look forward to seeing the talent they help to develop over the next 20 years."
To mark its anniversary, the School also unveiled its latest extension, The Deacon Wing (named after the Chair of the BRIT School Governors) and an upgraded state-of-the-art recording studio named after 'fifth Beatle' Sir George Martin.
World-wide reputation
Established in 1991, the BRIT School is an independent Government-funded City College dedicated to education and vocational training for the performing arts, media, art and design and the technologies that make performance possible. Its students are aged 14-19 and come from of all academic abilities with entry granted solely on aptitude and talent in one of the artistic disciplines
To date global album sales from The BRIT School alumni exceed 60 million (Official Charts Company figures) and more than 7,000 ex-students are currently contributing to the creative industries.
Further information
Published 23 September 2011