Brit medic trains Afghans on Artillery Hill
The only medic stationed at the small camp of Tapa Topche, more commonly known as Artillery Hill, outside Gereshk in southern Helmand, is providing essential medical training for Afghan soldiers.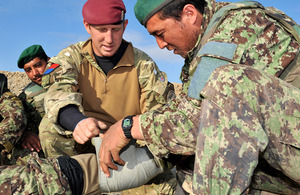 Corporal Harvey Davies, aged 30, from the Royal Army Medical Corps, is attached to the Colchester-based 7th Parachute Regiment Royal Horse Artillery (7 Para RHA).
When the regiment deployed to Afghanistan, Corporal Davies deployed alongside, expecting to fulfil his usual role of battery medic. This would normally involve dealing with the varied medical needs of a gun battery whilst deployed on operations.
But now Corporal Davies finds himself not only caring for his battery, but also teaching the Afghan soldiers they are working with essential first aid.
The focus of British operations in Helmand province is on increasing Afghan self-sufficiency, and the medical area is no exception.
Corporal Davies is working as part of the Brigade Advisory Group mentoring the Afghan National Army (ANA). The role of the Brigade Advisory Group is vital in building the capacity and capability of the ANA, so that soldiers are better able to take on responsibility for security within Helmand.
On Artillery Hill the mentoring focus is, unsurprisingly, on artillery, and members of 7 Para RHA are busily employed mentoring the Afghan Gunners in all artillery-related matters.
But Corporal Davies has found that there is an appetite from the Afghans for more than just gunnery and spends an increasing amount of time teaching first aid procedures.
The type of first aid he teaches is specific to the theatre of Afghanistan and differs greatly from the type of first aid commonly learned in the UK. How to apply a tourniquet when someone has lost a limb and how to surgically open a closed airway are amongst the abilities being taught.
Now on his third tour of Afghanistan, in addition to one of Iraq, Corporal Davies is in a good position to see the changes in approach and focus of the Afghan campaign over recent years.
He said:
We are much more Afghan-focused than we were in previous years. I'm meeting far more Afghans soldiers than I ever did before and they are dealing with a lot of stuff alone now, not solely relying on us.
There is a willingness to learn on the Afghans' part and, as an all-round fighting force, the Afghan National Army is becoming increasingly capable.
Of course, the goal is to develop Afghanistan's own security forces to a level where they can take on and defeat the insurgency alone - and more than ever that looks like a realistic and achievable objective.
Published 16 March 2011