News story
Bristol businesswoman wins place on US scholarship programme
UKTI's scholarship programme will help south west company SustainIT develop the strong brand and strategy needed to win business in the USA.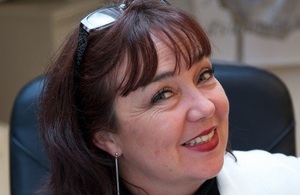 Charlie Stockford, Managing Director of SustainIt, has beaten scores of applicants from across the UK to earn a place on an exclusive scholarship programme in the United States.
The Bristol businesswoman will be taking part in the US Scholarship Programme, which is organised by UK Trade and Investment (UKTI) and the Ellis Goodman Foundation, in September 2014.
The US is an attractive market for UK businesses looking to compete beyond their national boundaries. However, the US market is complex due to its size and diverse geography.
Charlie Stockford said:
I applied for the programme as I thought it could provide an opportunity for me to think through a clear strategy for developing the business in the US and to understand more about the challenges of doing business there.
I'm also hoping it will help us develop a stronger partnership network, build upon the knowledge and research we've already done and help us create a brand strong enough to compete within the US marketplace.
US Scholarship Business Programme
The programme offers UK companies a unique opportunity to attend the 'Fundamentals for Success in the US Market' executive business programme. It's held at the Northwestern University's Kellogg School of Management in Evanston, Illinois. The Kellogg School is one of America's most distinguished business management schools.
The 5 day intensive course focuses on the important issues and actions UK companies must consider to enhance their presence in the US. It also helps to develop effective long term trading relationships in this challenging, dynamic and rewarding market.
Places are awarded to candidates and companies best placed to take advantage of this significant opportunity. The programme is specifically aimed at:
senior level representatives from UK small and medium sized companies
existing exporters with the resources and strategy in place to apply themselves to the US market
Want to apply for a place on the 2015 US Scholarship Programme? We hope to advertise the scheme in May 2015. Your local International Trade Adviser (ITA) will be able to advise when next year's programme is open.
Russell Jones, UKTI South West's Regional Director, said:
The Scholarship Programme creates the perfect opportunity for UK companies to understand the most effective principles for doing business in the US. The content is broad in scope yet practical, including interaction with US based business experts and experienced practitioners.
Scholarship programme course
Course content includes:
US negotiating practices and styles
economic, legal and regulatory environments in the US
developing strong business networks
building a compelling brand
technology, social media and mobile marketing
selecting and managing channel partners
SusainIt
Sustainability consultancy, SustainIt was founded in 2006. The business works with multi-million pound blue chip companies including Imperial Tobacco, British American Tobacco, Coca Cola, Centrica, National Grid, EDF and Toyota.
SustainIt has used UKTI's Overseas Market Introduction Service (OMIS) to help develop its overseas presence. It has also received support to develop its website for international communications.
Published 22 August 2014