World news story
Bringing green and growth together in Hong Kong
This was published under the 2010 to 2015 Conservative and Liberal Democrat coalition government
UK climate seminar highlights how Hong Kong would benefit from green growth using its financial strength.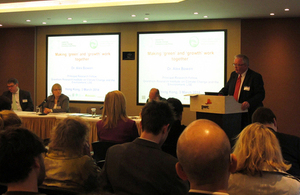 On 3 March 2014 the British Consulate-General Hong Kong organised a seminar on 'Making Green and Growth Work Together', in collaboration with the Association for Sustainable and Responsible Investment in Asia. Dr Alex Bowen, Principal Research Fellow of the Grantham Research Institute on Climate Change and Environment at the London School of Economics, Ms Caroline Saunders, Head of the Green Growth Team at the UK Foreign and Commonwealth Office and Ms Karen Bell, Deputy Head of Mission of the British Consulate-General Hong Kong were joined by local experts to discuss the economic case for green growth.
Dr Bowen argued that urgent action was needed to correct market failure in tackling climate change. Measures such as carbon pricing or emissions trading would promote growth and job creation as well as tackling climate and environmental challenges. In the UK, green growth had boosted demand for innovative products and low carbon business and professional services. As a service based economy, Hong Kong could also benefit from green growth.
Caroline Saunders emphasised the UK's whole economy approach to low carbon goods and services. The 2008 Climate Change Act provided the basis for UK Government action to tackle climate change and had shaped all the subsequent policies and plans to transition to a low carbon economy. One of the innovative measures in the financial sphere is the Green Investment Bank. It was established with government funding in 2012 aiming to create public-private joint investments into sustainable projects.
Local experts highlighted the potential of Hong Kong's financial services sector to deliver green growth. Measures that could enhance Hong Kong's innovative reputation included partnering with government to provide a regulatory framework such as an energy efficiency guarantee fund for buildings, and, requiring carbon and sustainability performance disclosure to raise company standards and facilitate capital flow into greener investments.
Further Information