World news story
Brigadier Richard Smith visited Kazakhstan
Deputy Commander of London District visited Kazakhstan on 20-22 August. He held seminars in Astana and traveled to Illisky Training Area.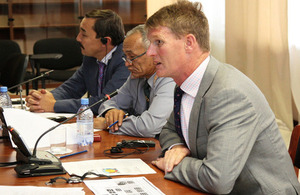 The Deputy Commander of London District, Brigadier Richard Smith, visited Kazakhstan 20-22 August 2013. As the senior UK officer responsible for the 24 person Short Term Training Team taking part in Exercise STEPPE EAGLE he was keen to witness the effect they were having in the preparation of KAZBAT for NATO Evaluation. Therefore he spent 20 August at Illisky Training Area where he heard from the Training Team commanded by Commander 1st Battalion Welsh Guards, Lieutenant Colonel Dino Bossi, of the high standards of fitness and robustness of the KAZBAT officers and soldiers who were picking up Peacekeeping tactics, techniques and procedures very quickly. Brigadier Smith also heard of the adventures of the 8 soldiers from 1st Battalion Welsh Guards who had driven out from London in 2 Landrover Discoveries. They are currently on the return journey traveling through Uzbekistan.
On 21 August Brigadier Smith held a meeting with the International Cooperation Department of the Ministry of Defence in Astana to discuss wider Military Cooperation and also gave his experiences as Director of Olympic Security London 2012 to the Centre of Military Strategic Research and EXPO17. Before departing he met with British Ambassador, the US Ambassador and Commander US Army Centre, Lieutenant General James Terry, to give his impressions of KAZBAT's excellent performance on Exercise STEPPE EAGLE.
British Ambassador attended the Exercise's Closing Ceremony on 23 August where her speech in Kazakh received spontaneous applause from the soldiers of KAZBAT.
Photos from Brigadier Richard Smith's meeting with the Centre of Military Strategic Research and EXPO17.
Speech of British Ambassador to Kazakhstan, Dr Carolyn Browne, at Exercise STEPPE EAGLE Closing Ceremony
Published 28 August 2013