Press release
Breaking new ground on protecting our waterways
A ground-breaking agreement between Natural England and the Canal and River Trust sets sail a new way of working to improve our inland waterways.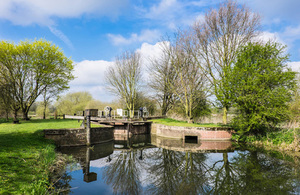 Meeting on the banks of the scenic Pocklington Canal – the focal point of an ambitious £460,000 bid to the Heritage Lottery Fund (HLF) designed to engage communities in protecting its delicate ecology and historical features - Natural England Chief Executive James Cross and Canal and River Trust's (the Trust) Chief Executive Richard Parry will sign a memorandum of understanding, cementing their mutual collaboration to protect England's canals and make them more accessible to the public.
The Pocklington HLF bid - to be submitted in November by the Trust, supported by Natural England and partners, will enhance and protect the special wildlife of the canal making it more accessible to visitors. Forty years ago the canal had declined into abandonment and disrepair, only narrowly escaping fate as a dumping ground for treated sewage sludge. Thanks to the work of local volunteers and campaigners it was saved from its fate, and is now almost completely protected as a Site of Special Scientific Interest (SSSI). Designated for its rare aquatic plants, breeding birds and outstanding variety of dragonfly and damselfly, it is a success story which Natural England and the Trust hope to replicate across the canal network – as they work together to encourage communities to take a more active role in canal management.
Natural England Chief Executive, James Cross said:
Our waterways have a strong role to play in nature conservation - providing a special, shared space for people and nature – where neither takes precedence.

Ultimately we share many of the same goals as the Trust; to restore and maintain ecological networks and to promote public understanding and enjoyment of a healthy natural environment. Today's agreement will help us to jointly meet those goals and improve our inland waterways for the benefit of all.

We want to further our understanding of the Trust's needs across the canal network – and make it easier for them to carry out their role. In recognition of their expertise in dealing with the protected species that live within and along our canal network, we are also simplifying our licensing system to make it easier for them to do their maintenance works - a win-win for us both.
Canal and River Trust Chief Executive, Richard Parry said:
Our network of canals and rivers is home to some of the nation's most important and well-loved wildlife and that in turn makes them special places for people to escape to.

This agreement will make it quicker and easier for us to improve our waterways for those visiting and living nearby whilst using our collective expertise to protect some of our most cherished, and in some cases, vulnerable species.

It's a great endorsement of our work across England and Wales and we very much look forward to being able to work even more effectively with Natural England.
Natural England will now begin the process of exploring an organisational licence for the Trust, which will allow the movement of protected species such as water voles, bats, badgers and native crayfish during routine canal maintenance works. Organisational licences are awarded on the basis of 'earned recognition' – in this case recognising the expertise and competence of the Trust in understanding how to avoid, mitigate and compensate for impacts on protected species. They have the dual function of ensuring that protected species remain safeguarded, whilst saving the time and money associated with applying for an individual licence every time one is required. The Trust currently holds a similar licence to handle floating water plantain – a European protected species. Organisational licences form part of Natural England's efforts to cut red tape and create a more efficient organisation.
The Trust is also to begin work with Natural England to develop action plans for the protected sites they manage – of which there are 63 SSSIs and 18 Natura 2000 sites across the English waterways network. These plans will see careful monitoring of the site biodiversity, which will in turn inform the process of maintaining them in the best possible condition.
In addition to being intrinsically valuable for wildlife, canals also provide connections within the landscape to other wildlife sites. The Trust and Natural England will be working together to identify locations where these linkages can be enhanced, including to the England Coast Path, the National Trail network and National Nature Reserves.
Published 6 November 2015