World news story
Brazil and UK sign MoU to enhance bilateral investment
Agreement signed in London aims to improve cooperation with a view to promoting and encouraging foreign direct investment flows between the two countries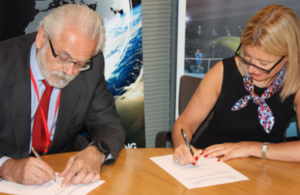 Apex-Brasil, the Brazilian Trade and Investment Promotion Agency, announced today it has signed a Memorandum of Understanding (MoU) with the UK's Department for International Trade (DIT) that aims to enhance cooperation to promote foreign direct investment between Brazil and the UK.
The agreement seeks to encourage bilateral investments between the two countries. Under the agreement, both countries have agreed to share relevant market intelligence industry information, knowledge, expertise and best practices on key industrial sectors, as well as regulatory information. The agreement has a key focus on, but is not limited to, sectors such as energy, oil & gas, life sciences, infrastructure, and agricultural technology. The agreement anticipates the active participation of stakeholders from the private and public sectors as well as unions.
The Memorandum was signed this morning at a ceremony in the Department for International Trade in Whitehall, London by Catherine Raines, Director General of the Department for International Trade, and by Roberto Jaguaribe, president of Apex-Brasil.
Commenting on the signing of the MoU, Apex-Brasil President Roberto Jaguaribe said: "This is an important day for both Brazil and the UK, as we seek to extend and enhance our trading relationship. By signing this memorandum of understanding we have taken a concrete step to sharing the intelligence, insights and expertise that will benefit both countries as we seek to deep and strengthen our trading ties".
Minister for Investment, Mark Garnier, said: "The UK is already the 4th largest foreign investor in Brazil and some our most successful companies operate in the country. We want to build on this relationship in the coming years and this new partnership with Apex-Brasil will help us strengthen the ties between our two countries."
Published 5 October 2017