News story
Brandon Lewis launches new hotline for community pubs
New pubs advice line to help locals learn how to set up a community run co-operative pub.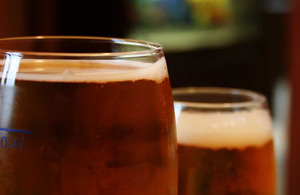 A pubs advice line was launched today by Community Pubs Minister Brandon Lewis which will help advise locals on how to take over their prized pubs.
The new hotline will be run by the Plunkett Foundation and is part-funded with £20,000 from the Department of Communities and Local Government. It will offer advice and information to local people who want to take an active role in ensuring that time isn't called early at their pub by setting it up as a co-operative.
Co-operative pubs are established on a '1 member, 1 vote' rather than '1 share, 1 vote' basis giving everyone a say in how they want their local pub to be run. Like any business, a co-operative pub aims to generate profits which can be reinvested back into it, and used to support community projects or given to members as dividends.
Community Pubs Minister Brandon Lewis said:
We are determined to support communities across the country step in, claim a stake and invest in the future of their local pub. The Community Right to Bid is already giving local people more power to get involved and this new phone line will give communities access to information, expertise, and the tools they need to convert their local pub into a co-operative enterprise for generations to come.
Peter Couchman, Chief Executive of the Plunkett Foundation, said:
The Co-operative Pubs Advice Line is an important part of the support required by communities in rural and urban areas looking to run their local pub as a co-operative. We hope that by raising awareness of the co-operative model as a solution we will inspire confidence in communities to help themselves and save what is important to them.
Supporting community pubs
The government wants to see community pubs thriving everywhere and The Localism Act enables local groups to bid to buy community buildings and facilities that are important to them. This gives communities the power to save struggling local pubs by taking them over rather than seeing them empty and derelict.
The department has also announced a fund of £150,000 to 'Pub is the Hub' which supports community pubs to innovate and expand their services to offer more to the local community. Additionally the government is:
doubling small business rate relief from £6,000 to £12,000 until March 2014 and ensuring rural rate relief is available to public houses
enabling councils to introduce local business rates discounts to support local businesses, through powers handed to them in the Localism Act
introducing a minimum unit price preventing supermarkets from unfair sales of alcohol below cost-price and put an end to the 'cider-tax'
To further support communities thinking about setting up a cooperative for their local the Plunkett foundation have also launched a website to provide access to information and advice, specialist toolkits and an online directory of co-operative pubs.
An online forum will also be established for the sharing of knowledge between communities. Promoting and supporting community-owned co-operative pubs forms a key part of the Plunkett Foundation's wider campaign to promote and support greater levels of community ownership in rural areas.
Communities looking for advice on how to save their local can call the hotline on 01993 810730.
Published 11 March 2013