Press release
Brandon Lewis announces large-scale custom build pilot
A new development of 122 homes has been selected as a national pilot for large-scale custom build, the Housing Minister announced today.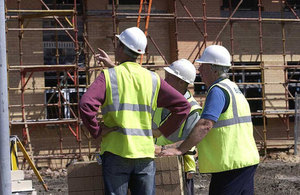 The minister said the government is committed to the sector and to working with industry professionals to eradicate the 2 biggest barriers to custom and self build – access to land and finance.
The proposed custom build site at Park Prewett, part of a major new housing development in Basingstoke, will be developed by ZeroC. The developer will provide homes under the custom build model, ranging from self-build to custom fit-out.
Each of the homes can be customised to the buyer's specifications – with various levels of custom build on offer to buyers.
Plans for the site will also include 44 plots which will be allocated for affordable housing, along with a few entirely-self build plots that will be made available.
Housing Minister Brandon Lewis said:
This government is committed to increasing housing supply and helping more people achieve their aspiration of home ownership – whether that's buying on the open market through schemes like Help to Buy, or to build.

We want to see custom and self build grow significantly and believe it can play a role as part of a wider package of measures to help deliver the homes people want.

The Park Prewett pilot is a fantastic example of our commitment to double the number of custom build and self build homes by 2020 – so anyone who wishes to design their dream house can do so.
Kim Slowe, Managing Director of Zero C said:
Park Prewett is an outstanding opportunity for us to pioneer the delivery of custom build in the United Kingdom.

We plan to take the lessons learned and roll out custom build in all our projects within the UK.
Colin Molton, Executive Director of the HCA in the South and South West said:
Custom Build offers a more accessible route onto the housing ladder. By giving people the option to take on some of the build themselves, we can reduce the cost of owning your own home.

We've made land available for custom build on pilot schemes across England, and aim to give many more people the opportunity to design their own homes in the future.
As announced in the Spending Review, the government will increase initiatives to further support the sector, with £350 million additional funding.
A new flexible fund offering £1 billion in loan finance will replace both the Builder's Finance Fund and the Custom Build Service Plots fund.
This is on top of a range of reforms to support small builders, including the measure in the Housing and Planning Bill which will require authorities to allocate suitable plots to prospective custom and self-builders registered in their area.
Today(9 December 2015) the Housing Minister attended a National Custom and Self Build Association (NaCSBA) summit at Downing Street with council leaders from across the UK to act as self and custom build champions.
The Housing Minister was one of the speakers, also including Richard Bacon MP and presenter of TV's Grand Designs, Kevin McCloud as a new online toolkit was launched offering technical advice on how local authorities can better support communities that want to build their own homes.
Further information
The Homes and Communities Agency acquired the custom build site at Park Prewett from the Highways Agency last year, in its role as the government's land, housing and regeneration agency for England.
With a developer in place, the team is now working with Basingstoke and Deane borough council and Zero C to achieve planning permission. House building at Park Prewett will begin in 2016, subject to successful planning consent.
Custom build homes are those where you work with experts to help deliver your home to your own specification.
Office address and general enquiries
2 Marsham Street
London
SW1P 4DF
Contact form https://forms.communit...
General enquiries: please use this number if you are a member of the public 030 3444 0000
Published 9 December 2015