World news story
Branding Experts Advance Local Business Know-How in Cambodia
From:

Part of:

Published:

15 October 2014
This was published under the 2010 to 2015 Conservative and Liberal Democrat coalition government
British Embassy and Lord Puttnam, British Trade Envoy, assemble British-backed branding experts to champion Cambodia's businesses.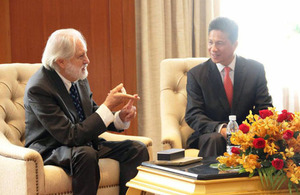 UK Trade & Investment (UKTI) hosted a branding seminar called 'Stand Out' on 13 October 2014 at the Intercontinental Hotel in Phnom Penh. There was strong local interest in British branding know-how and the event was attended by over 100 people.
The event was opened by:
Lord Puttnam, the Prime Minister's Trade Envoy to Cambodia
H.E. Senior Minister Sun Chanthol, Cambodian Minister of Commerce
H.E. Bill Longhurst, British Ambassador to Cambodia
Ambassador Bill Longhurst said:
Lord Puttnam's return to Cambodia as the PM's Trade Envoy demonstrates Britain's continued belief in the resiliency of the spirit of the Cambodian people and solid worth of its products.

Help is needed, and we are facilitating the access to it which businesses here are clearly striving for.
'Stand out' event
The seminar aimed to help Cambodian brands to compete internationally.
H.E. Sun Chanthol launched the event by telling the audience that Cambodia needs to change both the image of Cambodia, and to change the image of its products and brands.
H.E. Sun Chanthol asked marketeers to think,
What can we do differently? How can we do it?" will be critical to make this happen. He also acknowledged that assistance is needed, and welcomed, as it is "important we do it right.

We have excellent products in Cambodia but no idea how to promote and market them.
Lord Puttnam provided examples of nations that have developed their products into strong brands. Examples included:
KerryGold created by Irish dairy farmers
Spain's move from being a producer of primary goods into retail brands such as Zara
Successful brands are able to gain significant improvement against their margin as they can obtain premium pricing.
Lord Puttnam said that one 'cannot disaggregate the reputation of the country from the reputation of its products'. However Lord Puttnam urged the audience to, 'think beyond the Killing Fields' and to recognise Cambodia as an 'exciting, successful, and creative country'.
Presentations by UK branding experts
Three branding experts from the British listed WPP network talked about the importance of branding and presented case studies. Alex Clegg, Group Chairman, Ogilvy & Mather Viet Nam, shared Ogilvy's approach. This helps brands identify and action their big ideaL; more than just an idea, brands need a philosophy.
Andrew Harrison, Regional Development Director, and Dan Ellis, Regional Creative Director, both from The Brand Union argued that all brands have a promise. They argued that strategy, architecture, and design all influence satisfaction, loyalty, and emotional attachment.
Background
The event was conceived during Lord Puttnam's last visit to Cambodia in March 2014 at a meeting between Ambassador Longhurst, Lord Puttnam, and the Cambodian Minister of Commerce.
During the visit Lord Puttnam observed the untapped opportunity for branding and increasing the value of Cambodian products such as:
Kampot Pepper, an award winning rice
Kompong Speu palm sugar
Contacts
Contact UKTI Cambodia to find out about opportunities for your business in Cambodia.
Follow us on Facebook: UK in Cambodia and Twitter: @ukincambodia. British Ambassador's Twitter @wjlonghurst
Document information
Published: 15 October 2014