News story
Bradford shopkeeper fined for selling rotten fruit and vegetables
Sentence follows an investigation by the Horticultural Marketing Inspectorate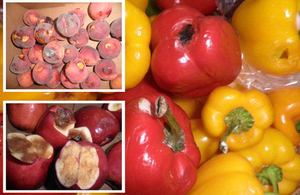 A Bradford shopkeeper has been fined for selling rotten fruit and vegetables following an investigation by the Horticultural Marketing Inspectorate (HMI).
Sheikh Abdul Waheed, aged 63, owner of Fruit World, in Oastler Shopping Centre, was sentenced at Bradford Magistrates' Court on Friday (15 May).
He had previously admitted eight breaches of EU marketing standards for fresh horticultural produce, when he appeared at Leeds' Magistrates' Court on 21 April.
The offences were found during an HMI inspection on 27 August last year and related to the display and offer for sale of apples (four counts) which were rotting and badly bruised rotting cucumbers, peaches and sweet peppers and overripe plums.
Mr Waheed was fined £2,400 (£300 per offence) and ordered to pay £85 prosecution costs.
HMI is part of the Rural Payments Agency and Operations Director Paul Caldwell said: "This case is another example of the work the Horticultural Marketing Inspectorate undertakes to protect consumers.
"Fresh produce should be good quality and the HMI's work is important in ensuring these standards are met.
"Prosecution is a last resort and we always try to gain compliance with quality regulations through advice, guidance and instruction.
"In this particular case, the prosecution followed a series of visits to the shop over eight months. Between October 2013 and May 2014, the store received six visits from inspectors where advice and guidance on compliance was offered. However, poor quality produce was found on five occasions and inadequate labelling on every visit.
"The Magistrates in this case stated they were appalled at the state of the produce which had been on sale."
Background
Fruit World is located at Units 13-18, Oastler Shopping Centre, Bradford BD1 3SR

The HMI is part of the Rural Payments Agency (RPA). The Inspectorate is responsible for the enforcement of the EU marketing standards for fresh fruit, vegetables, salad crops, nuts and cultivated mushroom, throughout England and Wales, wherever fresh produce is grown, imported, exported, bought or sold.

HMI operates a transparent risk-based approach to enforcement and has the principle aim of gaining cooperation and compliance from the trade it regulates at all stages of the distribution chain. Prosecutions are only taken as a last resort when all other options of education and advice have been exhausted.
Published 20 May 2015