Bowling greens to be given special protections under new planning rules
Bowling enthusiasts will be able to use new powers to safeguard treasured bowling greens from the threat of development or closure, Secretary…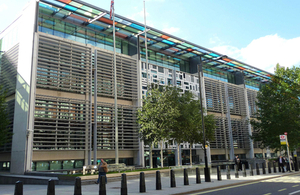 Bowling enthusiasts will be able to use new powers to safeguard treasured bowling greens from the threat of development or closure, Secretary of State for Communities and Local Government Eric Pickles said today.
Under new planning rules being proposed by the Government, communities will be able to classify green spaces such as bowling greens for special protections. New community rights will give local people a bigger say over what happens in their area and taken together these new powers could be used to ensure that pitches are preserved for the enjoyment of future generations.
The National Planning Policy Framework, published for consultation recently, includes a new local green spaces designation. The framework makes provision for green spaces to be identified by communities for special treatment within new neighbourhood plans. The designation could cover bowling greens as well as other recreational areas, wildlife havens or beauty spots. The plans are subject to a community vote and once agreed would go on to form part of the local planning policy.
Eric Pickles said:
Bowling is one of the nation's most popular pastimes and the bowling green has long been part of the fabric of our towns and villages. The new powers we are proposing can help to preserve this part of England's sporting and cultural heritage for years to come.

The local pitch, pavilion, park or playing field are at the heart of community life, where people come together to play sport and socialise. Making sure people can go on enjoying their local amenities is at the heart of the changes being made to the planning system. We are putting power in the hands of communities and increasing protections for those spaces that are important to them.
The changes outlined in the National Planning Policy framework to give local people greater control over much loved green spaces signals the strong emphasis the Government has placed on protection of the environment and local communities' interests in drawing up new planning rules.
The new protections are further reinforced by a new Community Right to Buy which gives local groups the opportunity to bid for bowling greens if they are facing the threat of being sold off. The new right, which is included in the Localism Bill currently making its way through Parliament, will enshrine in law measures to 'stop the clock' on any proposed sale, giving local bowlers the time they need to raise money. In addition, a new Community Right to Challenge will mean that local bowling clubs can bid to take over the running and management of a council-owned bowling green, placing the future of their resource more firmly in their own hands.
Mr Pickles added:
I know that bowlers, as well as other community groups, have been frustrated by a sense of powerlessness to stop treasured assets and amenities disappearing. The rights we are putting into law will make sure that local people no longer have to stand by as decisions are made beyond their control. They will be on a much surer footing when it comes getting heard and getting the time and 'in' they need to determine what happens in their area.
Notes to editors
The National Planning Policy Framework, published for consultation in July, can be found at: www.communities.gov.uk/publications/planningandbuilding/draftframework.
Twitter
Keep up to date with the Department by following us on Twitter (external link).
Media enquiries
Visit our newsroom contacts page for media enquiry contact details.
Published 30 August 2011