World news story
Boris Johnson to open the 24th Pontignano Conference in Italy
The 24th annual Pontignano Conference "Who Owns the Future?" will take place at the Certosa di Pontignano, near Siena, 15-17 September.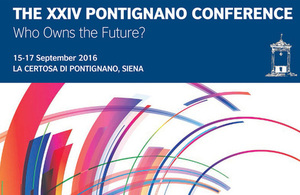 Boris Johnson, the newly appointed Foreign Secretary in Theresa May's government, will open the 2016 edition of the Pontignano Conference "Who Owns the Future?"
Boris Johnson will arrive in Siena after a bilateral meeting with his Italian counterpart, Foreign Minister Paolo Gentiloni, in Florence.
This year's edition, the most important appointment in UK-Italy relations, will also be the first event organised by the British government in Italy in the wake of the referendum on the EU held on 23 June 2016.
The conference, organised by the British Council and the British Embassy in Rome, in collaboration with Siena University and St. Antony's College of Oxford, will be chaired by Enrico Letta and David Willetts, and will be held behind closed doors under the Chatham House Rule.
Following welcome remarks by chairman David Willetts and Enrico Letta, Foreign Secretary Boris Johnson will address the audience during the 15 September opening session, together with Siena University newly appointed Dean Prof. Francesco Frati and the Minister for Education, Universities and Research Stefania Giannini who will extend their greetings. The session will be held at 6.30 pm in the Aula Magna of the University of Siena.
Just a few days before the opening of the conference, British Ambassador Jill Morris stated:
I am pleased to announce that the newly appointed British Foreign Secretary Boris Johnson will open the proceedings of the 24th Pontignano Conference.

We will discuss collaboration between our countries on immigration, integration, new technology, countering terrorism and inequality with Mr. Johnson and many other distinguished British and Italian guests. Naturally, we will also talk about relations between the United Kingdom and the European Union, with a particular focus on Italy.

The Conference will be an important opportunity to exchange views on how to build a new relationship between our two countries, which have long shared a special bond. We sincerely hope that this bond continues, and extends far into the future.
After the first plenary session on Thursday at the University of Siena, the Conference will continue - behind closed doors - at the Certosa di Pontignano on Friday, starting with a discussion on topics which are important to Italy and the United Kingdom with speeches by British Foreign Secretary Boris Johnson and the Italian Minister for Economic Development, Carlo Calenda. The debate will face various topics and will enable participants to address some of the fundamental questions about the future of our countries and the European continent.
Further information
follow @UKinItaly and #Pontignano on Twitter
see the pictures of the previous Pontignano Conferences on our Flickr account
Document information
Published: 14 September 2016