Boosting British business in Atlanta
Foreign Office Minister Alistair Burt visited Atlanta to discuss the growing business links.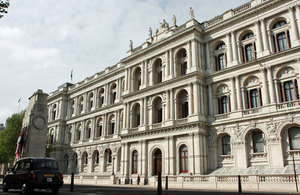 His visit followed shortly after a visit to London by Atlanta Mayor Kasim Reed, whom he met.
Ahead of the visit, the Minister said:
"A key priority of our government is supporting sustainable economic recovery led by the private sector. Talking to British companies actively expanding their interests in the US, as well as meeting US companies in Atlanta which want to know more about doing business in the UK, are central aims of my visit."
He met a number of political and business leaders including Mayor Reed. He visited the Carter Centre, which receives significant support from the UK government for a number of their programmes in Africa.
British Consul General in Atlanta Annabelle Malins said:
"The economic relationship between the UK and US is among the largest of any two nations in the world. Mr Burt's visit to Atlanta recognizes the importance of trade and investment links between Georgia and the UK, and the government's interest in expanding these. British investment in Georgia already accounts for more than 24,000 jobs. Britain is also Georgia's biggest export destination in Europe and a top vacation spot for many Georgia citizens. Mr Burt's visit will progress this successful relationship even further."
Published 16 December 2010