Press release
Boost for UK space sector as European Space Agency plans second Tim Peake space mission
Business Secretary confirms that Tim Peake will make a second mission to the International Space Station.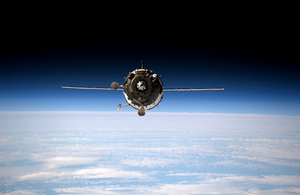 Tim Peake's planned second flight will advance scientific research and promote careers built on technical education
space sector driving growth and skills across the UK as part of the government's industrial strategy
new STEM (science, technology, engineering and maths) education centre opened at Airbus Defence and Space in Stevenage
£70 million funding for UK space businesses to expand work on satellite monitoring of the environment and other global issues
UK is committing €1.4 billion to the European Space Agency over the next 4 years
Business Secretary Greg Clark has confirmed today (26 January 2017) that Tim Peake will make a second mission to the International Space Station to continue work on scientific research and broadening our understanding of the space environment.
The announcement about the European Space Agency mission for Tim Peake, which will also be available to the other ESA astronauts in the class of 2009, marks a further boost to the UK's space ambitions and to the profile of a sector of growing economic and educational importance to the country. A crucial part of Tim Peake's work is driving interest in science, technology, engineering and maths in schools, and the UK's future technical expertise.
Mr Clark also announced that UK space businesses are set to benefit from a £152 million fund, using British expertise in satellite technology for international projects monitoring and addressing problems such as flooding, drought and deforestation. Firms from Edinburgh, Oxfordshire, and Aberystwyth are among those who will use technology such as satellite communications and Earth observation data to help address significant social and environmental issues including crop loss, illegal fishing and emergency response.
This national funding follows the UK commitment of €1.4 billion (equivalent to around £300 million a year), which was committed last month, for the European Space Agency over the next 4 years. It signals a major advance in support for the sector, with future growth focused on increasing the number of people with the technical training to support the industry, greater opportunity for private sector companies to invest in commercial projects, and continued expansion of British satellite technology businesses.
Tim Peake will undertake a second space mission as a British European Space Agency astronaut, with the timing to be confirmed by the ESA in line with normal mission selection protocol.
Secretary of State for Business, Energy and Industrial Strategy Greg Clark said:
Tim Peake's Principia mission inspired a generation, and showed just how far science can take you.

Our space sector underpins industries worth more than £250 billion to the economy, employing people in every corner of the UK. It has enormous potential to grow further – showing why we have placed such an emphasis on science, innovation and skills in our plans for an industrial strategy.

Building on excellent foundations, our ambition is to capture 10% of the space market by 2030 and ensure the UK space industry is a global leader in the decades ahead.
The announcement was made at the opening of an exhibition at the Science Museum in London showcasing Tim Peake's Soyuz Capsule, which took him to and from the International Space Station last year. The exhibition is part of a push to inspire young people to study science, technology, engineering, and maths (STEM) and pursue careers requiring those skills.
Tim Peake will also open the new Airbus Foundation Discovery Space STEM Centre in Stevenage today. The Centre features educational exhibits to promote science, technology, engineering and maths to inspire the next generation of engineers, technicians and scientists, based around the Airbus testing facility for its Mars rover programme. The site is expected to receive around 5,000 school visitors per year.
The UK space sector is growing and employs more than 38,000 people across the UK in parts of the space supply chain as diverse as specialist cutting machinery and satellite antennae, stretching from Portsmouth to Glasgow.
The sector is highly productive, with output per worker almost 3 times the national average and one of the most skilled workforces in Britain. However, attracting new talent is crucial keeping it at the forefront of space discoveries and enabling it to drive growth in local economies around the country. Developing skills is one of the pillars of the government's vision to build a modern, dynamic industrial strategy that improves living standards and drives economic growth across the whole country, backed by £170 million for new Institutes of Technology.
A report published by the UK Space Agency in December 2016 showed that British firms are positive about the future, with 7 in 10 businesses expecting their income to grow over the next few years, and over half expecting export sales to grow.
The £70 million awarded to British businesses through the UK Space Agency's International Partnership Programme will link firms in this country with organisations and governments around the world.
Universities and Science Minister Jo Johnson said:
The UK space sector is responsible for ground breaking, innovative developments and technologies used to solve some of the most pressing global challenges of our time. Our space technology and expertise in analysing satellite data is world leading, and through the International Partnership Programme we are supporting countries around the world while helping UK businesses to thrive.

Meanwhile, our strong collaboration with the European Space Agency will continue, backed by £300 million per year to ensure the UK remains a core part of the European space programme.
Notes to editors
1.See the government's green paper, Building our Industrial Strategy.
2.Major Tim Peake is the first British astronaut at European Space Agency. He undertook the 186-day Principia mission to the International Space Agency, landing back on Earth on 18 June 2016.
3.The Airbus Foundation Discovery Space STEM Centre in Stevenage is new educational facility at designed to encourage interest in science and engineering. The unique facility will consist of a multi-functional education centre with interactive exhibits, a space to deliver classes and workshops, and a viewing gallery connecting with on-going engineering activities to build and test ESA's ExoMars rover in the Mars Yard.
The centre is backed and funded by Airbus, the Airbus Foundation, and the North Hertfordshire Local Enterprise Partnership, and will be run in partnership with North Hertfordshire College.
4.UK government funding to the European Space Agency over the next 4 years is equivalent to £300 million per year and will support projects including:
telecommunications partnership projects worth €319.2 million involving the UK satellite industry
€288.8 million investment for the UK to lead Europe's Earth observation, including the expansion of the climate change monitoring and services; and
€82.4 million towards the successful delivery of the ExoMars programme – demonstrating that our exploration efforts can reach beyond Earth's orbit and stretch out to explore our Solar system
5.The UK Space Agency's International Partnership Programme (IPP), is a 5-year, £152 million programme designed to partner UK space expertise with governments and organisations in emerging and developing economies around the world to deliver a sustainable, economic or societal benefit.
6.Funded from the Department for Business, Energy and Industrial Strategy's Global Challenges Research Fund (GCRF), the International Partnership Programme forms part of the UK's Official Development Assistance (ODA) ring-fenced budget. They projects underwent a rigorous selection process to ensure that they met strict requirements for ODA and UN sustainability goals.
7.The government endorsed the space sector's growth ambition in its National Space Policy (2015), and set out high-level plans to:
recognise the strategic importance of space
protect the space operating environment, identified by the government as critical national infrastructure
grow UK space capabilities
work in international partnerships to deliver key objectives
Published 26 January 2017