News story
Boost for UK research and innovation
Chancellor visits Bath-based engineering firm to see how R&D tax credits support innovation – as Autumn Statement increases generosity of scheme.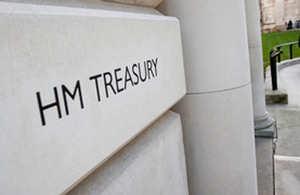 Chancellor of the Exchequer George Osborne visited the Bath-based global engineering firm Rotork today to see how research and development (R&D) tax credits provide help to fund billions of pounds of innovation and help British firms take on the world.
This follows the Autumn Statement making tax credits for R&D more generous for large and small firms.
In 2012-13, R&D tax credits provided almost £1.4 billion of relief to 15,120 companies, supporting around £13.2 billion of innovative investment.
At the Autumn Statement, the Chancellor announced that from April 2015 R&D tax credits will become more generous – meaning R&D tax credits will now reduce the cost of R&D by up to 29% for large businesses and up to 46% for small businesses.
Bath-based Rotork employs over 3,400 people across the world producing valves that manage the flow of liquids and gases. It invests in research and development to help export over 90% of its products.
Chancellor of the Exchequer George Osborne said:
By supporting research and development we are helping British business reach out across the world, a key part of the government's long-term economic plan.

We are focusing extra support on small businesses to help them innovate and grow, and making sure larger companies can benefit from some of the best R&D support in the world.
Peter France, Rotork Chief Executive, said:
Investing in research and development is of paramount importance when trying to compete on the world stage. Over 90% of our flow control products manufactured in the UK are exported globally.

The company has a reputation for innovation and quality products and this comes from understanding the needs of the customer and the environment that our products are asked to operate in. Our products work in the coldest and hottest climates, under the sea and in deserts across the world.

The support from tax credits and patent box benefits supports our competitive position in a very competitive market place.
Increased help for companies with R&D announced last week in the Autumn Statement means:
for every £100,000 an SME spends on qualifying R&D expenditure, they will receive up to £46,000 off their tax bill
for each £100,000 a large firm spends on qualifying R&D expenditure, they will receive support of up to £29,000
Rotork last year saw annual sales of £578 million and now employs over 3,400 employees worldwide in 95 countries. It manufactures industrial valve actuation and flow control equipment used in every industry where there is a need to control the flow of liquids or gases.
Rotork is active in the oil & gas, power, water & waste water, marine, mining and environmental industries.
Published 12 December 2014