Press release
Boost for Remploy Employment Services
Remploy Employment Services will become independent of government so it can expand its business to help even more disabled people into work.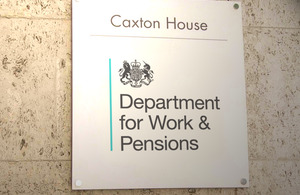 It is estimated that by March 2015, Remploy Employment Services will have supported over 100,000 disabled and disadvantaged people into work since 2010. As part of the government's long-term economic plan to help more people into work, today (22 July 2014) sees the start of a commercial process to find a new partner for Remploy Employment Services so they can use private investment to help them expand.
With an employment rate which has never been higher and unemployment falling as the economy grows, an increasing number of employers are recognising the benefits of employing people with disabilities. Through government schemes, disabled people are moving into jobs or training opportunities at a rate of over 750 placements every single week as part of the drive to help more disabled people into work.
By allowing Remploy to take on significant investment free from government control – as requested by the Remploy Board and as recommended by Liz Sayce in her recent review – they will have the freedom and flexibility to grow the business and help even more disabled people into jobs.
Minister for Employment Esther McVey said:
I want to make sure that everyone gets to benefit from the growing economy. Remploy Employment Services has already been very successful in helping disabled people into jobs and the opportunity for new investment will help them take it to the next level.

As part of the government's long-term economic plan we are helping businesses up and down the country to become more confident about employing people with disabilities and giving Remploy Employment Services independence from government will allow even more disabled people to build their careers.
Beth Carruthers, Chief Executive of Remploy said:
I am delighted by the minister's announcement today. The decision creates a fantastic opportunity for Remploy to grow and flourish enabling even more disabled people to transform their lives through work.
Kirsty Mchugh, Chief Executive for the Employment Related Services Association (ERSA) said:
We wholeheartedly support today's announcement which supports Remploy's ability to continue to deliver excellent services to disabled people.
Susan Scott Parker, Founder and Chief Executive, Business Disability Forum said:
We believe that today's announcement is a very positive step towards enabling Remploy to support employers to recruit and retain even more disabled people.
Mick Wilde, lead staff representative at the GMB Union said:
As lead GMB representative for staff employed by Remploy, with full support of national and regional officials and myself, we fully support the exit of Remploy from government control, providing it is done in full consultation and with continued transparency.
Kevin Hepworth of Unite Union said:
We are happy with the direction Remploy hopes to take when it exits government ownership. Unite looks forward to strengthening its partnership that already exists with the company and this will protect the employees and the ethos of the company in the future.
Richard Hawkes, Chief Executive of the disability charity Scope said:
We know that many disabled people want to work, but there is a long way to go to make this a reality. Today's announcement by government represents a good opportunity for Remploy to develop its business in line with the needs of disabled people.

We need to make sure more disabled people get access to expert, tailored support to find employment. We need to look how we can create more jobs.

We also need to look into how we can make work places more flexible, welcoming environments where disabled people flourish rather than struggle.
Peta Wilkinson, Chief Executive of the Enham Trust said:
This decision moves us forward in terms of personalised approaches to supporting people into work. It is a real opportunity to create an effective plural market and a driver for flexible approaches that meet differing people's needs and support sustained outcomes.
Mark Lever, Chief Executive of the National Autistic Society (NAS) said:
This represents a good opportunity for Remploy to develop its business in line with the needs of disabled people and provides greater opportunities for collaboration between service delivery and fundraising.
Tim Cooper, Chief Executive of Advance said:
We know that having a paid job remains an aspiration for many disabled people, having a wide range of diverse and experienced disability employment providers to assist with this is really important. Remploy is a well established organisation with a good track record in getting disabled people jobs – giving it greater freedom and flexibility in how it does this by moving it out of direct government control must make sense.
The commercial process for Remploy Employment Services will be launched in the next week. DWP will have a contractual arrangement with the new company to continue Remploy Employment Services' national delivery of Work Choice and contracts and agreements which are expected to be transferred as part of this process.
Any future partner or investor will need to demonstrate the commitment, capacity and capability to continue the delivery of Work Choice and continue to grow the business in line with Remploy's mission. We expect that all current Remploy Employment Services employees will transfer into the new company and we don't expect any redundancies.
Liz Sayce's independent review – Getting in, staying in and getting on – was published in 2012 and looked at how the disability employment budget could be used more effectively to support thousands more disabled people into work.
Written Ministerial statement
Read the Written Ministerial statement on Remploy Employment Services on the Parliament website.
Contact Press Office
Media enquiries for this press release – 020 3267 5161
Press Office
Caxton House
Tothill Street
London
SW1H 9NA
London Press Office (national media and London area enquiries only – not questions about personal claims) 020 3267 5144
Out-of-hours (journalists only) 076 59 108 883
England and Wales (local media enquiries) 029 20 586 then 097 or 098 or 099
Scotland (local media enquiries) 0131 310 1122
Follow DWP on:
Published 22 July 2014