Press release
Boost for boaters at Harbour of Rye
Boaters are to benefit from improved facilities after the Environment Agency completed the installation of new pontoon moorings.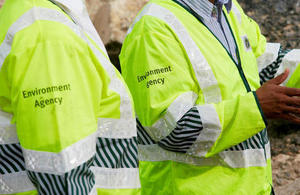 The new pontoons improve the access for boaters at the Harbour of Rye, making it much easier and safer to board a boat.
The new pontoons are connected to the shore via a floating walkway, and provide improved accessibility for fishermen and boaters. Shore power is available on site alongside the vessels, and there is a secure gated car park. Harbour fishermen will benefit from the alongside moorings, as it is now much safer, easier and quicker for them to land their catch.
The Harbour of Rye is important to the local economy, with an estimated value of £8 million every year. The new pontoon moorings are 100 metres in length, and cost £240,000. £112,000 of the funding came through a grant from the European Fisheries Fund, with the Environment Agency paying the rest.
The new moorings have proved very popular and are already full. However, there is a waiting list that people can sign up to. For more information please call the harbour office on 01797 225225.
The Environment Agency has completed the work ahead of the Harbour of Rye Advisory Committee (HORAC) elections which are currently taking place and run from 21 September to 11 October. HORAC plays a vital role in the work to manage the vibrant working harbour in Rye for both industry and leisure.
James Bateman, Harbour Master, said:
The Harbour of Rye is very important to the local economy, and the new pontoons will be a valuable asset. As well as improving safety they also improve accessibility at the harbour, and are built to last for at least 25 years.

We look forward to working with the newly elected members of HORAC to continue to improve the harbour, which will also positively impact the town and local community.
Notes to editors
All media enquiries 0800 917 9248
Follow us on Twitter @EnvAgencySE
Published 29 September 2015