World news story
Bond is GREAT: British Embassy hosts private screening of SPECTRE in Honduras
The British Embassy hosted a 'Bond is GREAT' private screening of SPECTRE in Tegucigalpa.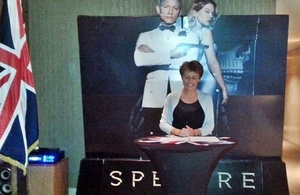 On Thursday 26 November the British Embassy together with Sony Pictures Entertainment, hosted a private screening to celebrate the release of Bond's latest movie, SPECTRE, premiered in November around the world, including Honduras.
Her Excellency Carolyn Davidson, British Ambassador to Honduras, welcomed authorities, political figures, prominent business leaders and members of Honduran society to an elegant cocktail reception at City Mall, a luxury shopping mall in the heart of Tegucigalpa.
To mark the event, the British Ambassador to Honduras said:
James Bond is one of the greatest film franchises of all times, and the UK is a world leader in movie production and the creative industries. $2.4bn were spent on UK film production last year, as many directors and producers recognised the talent and expertise of British filmmakers. SPECTRE has been the most popular film in the world for the last two weeks and I hope it will encourage many people in Honduras, and elsewhere, to go and visit some of the stunning locations in the UK featured in the film I would also like to thank the sponsors of tonight's gala: Heineken, Belvedere Vodka, Land Rover and Sony Entertainment.
As the reception drew to a close, guests made their way up to a special private screening of SPECTRE at Cinemark VIP, following the film's official release in Honduras at the beginning of the month.
Published 27 November 2015