Bomber Command Memorial unveiled
Poppies dropped over Green Park to remember lives lost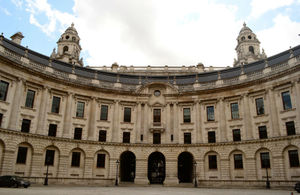 The Bomber Command Memorial commemorating 55,573 airmen who lost their lives in the Second World War has been unveiled today.
Her Majesty the Queen officially revealed the nine-foot high bronze sculpture in London's Green Park watched by Bomber Command veterans, widows and family members.
An inscription on the Memorial also commemorates the people of all nations who lost their lives in the bombing campaigns of 1939-1945.
Heritage Minister John Penrose, who attended today's event, had announced grants totalling £1 million towards the cost of construction earlier this year. The monument was largely funded by public donations and private benefactors.
Bomber Command veteran Alan Biffen, 87, said: "I am so glad that at long last Bomber Command is being remembered not only for what it achieved but also for the lives of the young men who never came back. Many of them were boys. I myself added a year to my age at 16 so that I could join the Air Force."
The ceremony ended with flypasts by RAF bombers crewed by today's Royal Air Force, including the last flying Lancaster Bomber which dropped poppies over Green Park.
The RAF Benevolent Fund will now take over guardianship of the memorial.
Further information
Published 28 June 2012